LOS ANGELES, Calif., May 17, 2023 (SEND2PRESS NEWSWIRE) — Scientology Network's DOCUMENTARY SHOWCASE, the weekly series providing a platform for independent filmmakers to air films on important social, cultural and environmental issues, presents the documentary "Chocolate Road."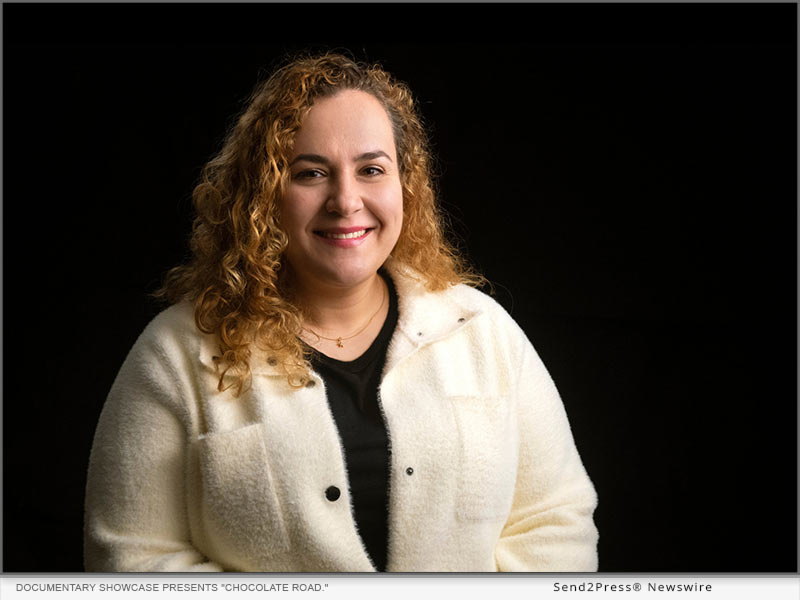 Image Caption: DOCUMENTARY SHOWCASE, the weekly series providing a platform for independent filmmakers to air films on important social, cultural and environmental issues, presents the documentary "Chocolate Road."
"Chocolate Road" follows three chocolate artisans in pursuit of the highest quality cacao beans for the burgeoning craft chocolate market. Their quest takes them to the hot and humid cacao growing regions of the world, where their cooperation with cacao farmers has a transformative and empowering effect on the communities.
Directed by Tanya Chuturkova, the feature-length documentary shifts locales seamlessly between high-street chocolate shops run by esteemed, award-winning chocolatiers, and the cacao plantations of South and Central America run by generations of anonymous farmers and producers. The growing demand for craft chocolate creates a symbiotic relationship between the chocolate artisans hoping to create next-level chocolate experiences and cacao producers hoping to make inroads to earning livable wages from their labors and expertise.
ABOUT TANYA CHUTURKOVA
Originally from Sofia, Bulgaria, and now based in New York, Tanya Chuturkova is a director and creative producer with many film and television credits. She wrote, produced and directed six short films before embarking on "Chocolate Road," her debut feature documentary. Additionally, her television work as an editor garnered her numerous awards, including four Telly Awards.
In an interview with Scientology Network for DOCUMENTARY SHOWCASE, Tanya conveyed the impact of her filmmaking journey:
"We live in a very consumer society and we're used to just getting everything fast. Everything–food, fashion–that goes for chocolate as well. We just grab something. We don't think where it comes from. But throughout the process of making the movie, it has changed my whole perspective."
ABOUT DOCUMENTARY SHOWCASE
Fundamental to Scientology is a humanitarian mission that extends to some 200 nations with programs for human rights, human decency, literacy, morality, drug prevention and disaster relief. For this reason, the Scientology Network provides a platform for independent filmmakers who embrace a vision of building a better world.
For more information, visit scientology.tv/docs.
The Scientology Network debuted on March 12, 2018. Since launching, the Scientology Network has been viewed in over 240 countries and territories in 17 languages. Satisfying the curiosity of people about Scientology and Founder L. Ron Hubbard, the network takes viewers across six continents, spotlighting the everyday lives of Scientologists, showing the Church as a global organization, and presenting its social betterment programs that have touched the lives of millions worldwide.
Broadcast from Scientology Media Productions, the Church's global media center in Los Angeles, the Scientology Network is available on DIRECTV Channel 320, DIRECTV STREAM, AT&T U-verse and can be streamed at Scientology.tv, on mobile apps and via the Roku, Amazon Fire and Apple TV platforms.
LEARN MORE:
https://www.scientology.tv/series/documentary-showcase/
https://www.scientology.tv/series/documentary-showcase/chocolate-road/
MULTIMEDIA:
VIDEO https://www.scientology.tv/series/documentary-showcase/chocolate-road/videos/trailer.html
IMAGE link for media: https://www.Send2Press.com/300dpi/23-0517-s2p-chocroad-300dpi.jpg
Caption: DOCUMENTARY SHOWCASE, the weekly series providing a platform for independent filmmakers to air films on important social, cultural and environmental issues, presents the documentary "Chocolate Road."
TAGS: #ScientologyNetwork #Scientology #DocumentaryShowcase #ChocolateRoad #Chocolate
News Source: Church of Scientology International