BAJA CALIFORNIA, Mexico, Aug. 29, 2023 (SEND2PRESS NEWSWIRE) — Dovinto Vinicola Destino is pleased to announce a significant milestone in its journey towards bringing exceptional wines to enthusiasts in the U.S. Dovinto has entered into a strategic importation and distribution agreement with The American Spirits Exchange which promises to extend the availability of Dovinto's premium wines to the broader U.S. audience, enriching the wine experiences of connoisseurs and newcomers alike. With its rich heritage and dedication to producing exceptional wines, Dovinto aims to captivate wine enthusiasts across America with the unique flavors and characteristics of is uniquely-created premium Mexican wines.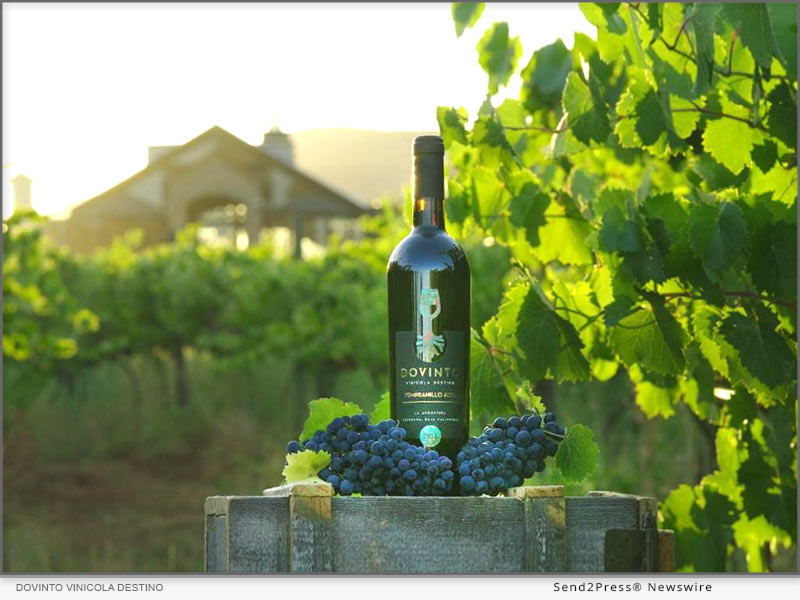 Image Caption: Dovinto Vinicola Destino Wine.
Guided by a passion for winemaking and a commitment to sustainable practices, Dovinto has already won awards for its first two vintage years (2017-18) in international competition. The Dovinto vineyards are nestled in the picturesque region of Baja California, the birthplace of wine cultivation in the Americas, where the perfect combination of climate, soil, and elevation creates an optimal environment for grape cultivation. This distinct terroir imparts a distinctive quality to the wines, resulting in a diverse portfolio red and white wines that showcases the true essence of winemaking.
"We have spent the last ten years perfecting the systems and cultivating the grapes for our beyond-organic and sustainable wine-making process," said founder Jesus Sesma. "We are excited to announce our partnership with ASE, a company that shares our values of quality, passion, and customer satisfaction. Through this collaboration, we are poised to introduce our exceptional sustainable wines to U.S. wine enthusiasts, enriching their wine experience and leaving a lasting impression."
Dovinto takes pride in blending traditional methods, innovative techniques and sustainable practices, ensuring that the production process respects the environment and the surrounding communities. By implementing eco-friendly initiatives such as water conservation, solar energy utilization and organic farming methods, Dovinto strives to protect the natural beauty of the regions where its vineyards flourish. Dovinto manufactures its own bio-fertilizers, bio-fungicides and bio-pesticides on the property, all using natural methods.
"The partnership between ASE and Dovinto is a testament to both companies' dedication to delivering excellence and creating memorable moments for American wine enthusiasts," said Philip Kolodziey, President of ASE.
Starting in California and eventually expanding throughout the U.S., Dovinto's wines will soon be available at select retailers, fine dining establishments and through its online platform. This will allow wine enthusiasts to indulge in the finest expressions of winemaking.
About Dovinto:
Established by Jesus Sesma in 2010, Dovinto is dedicated to producing only the finest organic wines that can rival the world's best. He chose Baja California, the birthplace of wine cultivation in the Americas, as the home for Dovinto Vinicola Destino. Dovinto is an award-winning winery that believes in natural, biological, sustainable and sustainable viticulture. It uses solar energy in 100% of its processes, vinifying without corrections or additives and taking care of the soil because it is the key to our health and a healthy environment. Dovinto manufactures its own bio-fertilizers, bio-fungicides and bio-pesticides on-site, all using natural methods. No herbicides are used – weeds are manually removed and reincorporated into the soil. For more information, please visit: https://dovinto.com
About ASE:
The American Spirits Exchange was started by academics and executives who wanted to leave the corporate grid and pursue their passion for artisanal beverages. Its leadership is made up of partners who dedicate themselves to helping its clients achieve long-term growth and participating in broader activities to shape the industry. Its mission as a national spirits importer and distributor is to help make artisan brands broadly available, promote exceptional beverages in the U.S. and educate consumers about the art and science of craft alcohol beverages. ASE focuses on the non-glamorous, back-office work of the industry, such as complicated alcohol beverage compliance. For more information, please visit: https://americanspiritsltd.com/
CONTACT:
Dovinto International, LLC
Herbert Dogan (310-433-8072)
hgd@digitlmediums.com
Social media: @dovintousa #dovinto #vinicola #wine #winedestination @DovintoMX #dovinto #vinicola #Vino #vinodestino
News Source: Dovinto Vinicola Destino