DELRAY BEACH, Fla., Oct. 18, 2023 (SEND2PRESS NEWSWIRE) — Dr. Tiffany Dudley and the Spodak Dental Group team are now offering free TMJ phone and virtual consultations with a goal to help patients suffering from migraine and chronic headaches find relief. It is estimated that roughly 10 million people in the United States suffer from at least one TMJ disorder.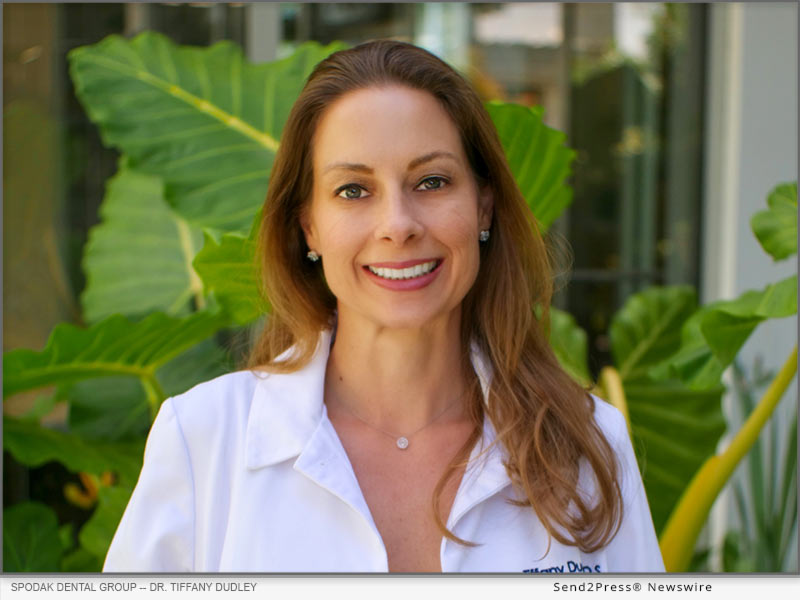 Image Caption: Dr. Tiffany Dudley.
"It's important to offer this resource to our community members who are experiencing jaw, head and neck pain, as well as those who are suffering from migraines," said Dr. Dudley. "Because there are different types of TMJ disorders, it's crucial to speak with a medical professional who can properly diagnose the cause of the pain and then recommend necessary treatment to get the patient out of pain today, and in the future."
The temporomandibular joint is a hinge that connects your jaw to the temporal bones of your skull, which are in front of each ear. This joint lets you move your jaw up and down and side to side so you can talk, chew and yawn. Problems with your jaw and the muscles in your face that control it are known as Temporomandibular Joint Disorder (TMJ), and can cause pain and tenderness in the jaw joints and surrounding muscles and ligaments.
Symptoms of TMJ can include pain or tenderness in your face, jaw joint area, neck and shoulders, and in or around the ear when you chew, speak or open your mouth wide; jaws that get "stuck" or "lock" in the open or closed position; clicking, popping or grating sounds in the jaw joint when you open or close your mouth or chew; a tired feeling in your face: trouble chewing or a sudden uncomfortable bite, as if the upper and lower teeth are not fitting together properly; and swelling on the side of your face where you're experiencing pain.
TMJ can be caused by teeth grinding, jaw injuries, arthritis, and every day wear and tear. The pain and discomfort can be temporary, or can last many years. Women experience TMJ pain more often than men, and it's most common among people between 20 and 40 years old. TMJ treatment varies from person to person and may include medication, physical therapy, custom mouth guards and jaw surgery.
Free telemedicine TMJ consultation appointments are available Monday through Wednesday from 9 a.m. to 5 p.m., and are held over the phone or virtually for 30 minutes. Current and future patients can schedule their consultation by calling/texting (561) 303-2413 or emailing inform@spodakdental.com.
About The Spodak Dental Group:
The Spodak Dental Group, an Inc. 5000 honoree, has evolved to become South Florida's premier, comprehensive dental facility, and comprises a world-class association of dental professionals poised to provide full-service dental care second-to-none in both scope and skill. The Spodak Dental Group team includes General and Restorative Dentists, Endodontists, Periodontists, Board Certified Oral and Maxillofacial Surgeons, Master Ceramic Artists and Anesthesiologists, as well as one of the nation's only in-office dental labs.
Spodak Dental Group is located at 3911 W. Atlantic Ave. Call or text (561) 303-2413 or visit https://www.SpodakDental.com/ for more information or to schedule a virtual or in-office appointment.
News Source: Spodak Dental Group