DELRAY BEACH, Fla., Aug. 17, 2018 (SEND2PRESS NEWSWIRE) — Dr. Tiffany Dudley of Spodak Dental Group is committed to saving lives and is dedicated to helping her community members treat their sleep apnea condition. Studies show that people who suffer from untreated sleep apnea can have a decreased life expectancy, so treatment is incredibly important for overall health.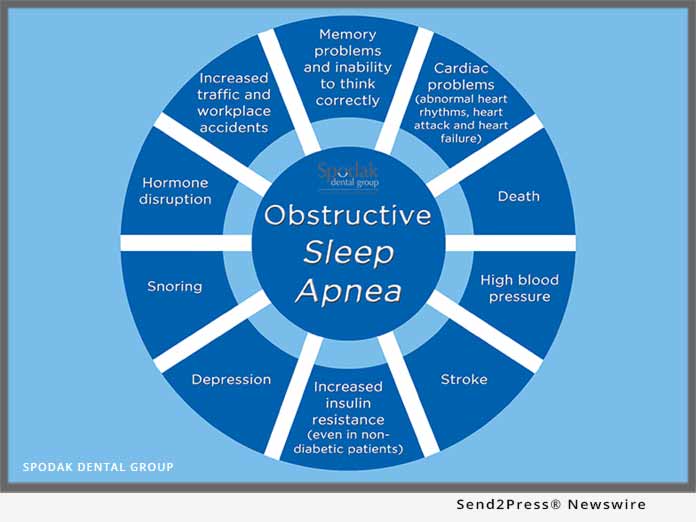 "Recognizing and treating patients who suffer from sleep apnea is one of the most important services we offer," said Dr. Tiffany Dudley, general dentist at Spodak Dental Group. "Every year about 38,000 people die from heart disease directly complicated by sleep apnea, so it is very crucial that we screen and treat all of our patients."
Obstructive sleep apnea (OSA) is a very common and potentially life-threatening medical disorder that occurs when the soft tissue in a person's throat repeatedly collapses and blocks the airway during sleep. These partial reductions and complete pauses in breathing typically last between 10 and 30 seconds, but can persist for one minute or longer. These pauses can happen 100 times per night, leading to abrupt reductions in blood oxygen levels causing less oxygen being delivered to your organs, including the heart and brain.
The brain alerts the body about the lack of oxygen, causing brief arousal from sleep that restores normal breathing, sometimes with a loud snort or choking sound, which is why most bed partners complain of loud and excessive snoring. The result is a fragmented quality of sleep that often leads to excessive daytime sleepiness. Untreated OSA increases your risk for high blood pressure, heart disease, diabetes, depression, memory loss and more. But also, if you already suffer from one of these conditions, you are at a higher risk for developing sleep apnea.
Sleep apnea patients can be any age, weight or stature. Both men and women of any age or body type can suffer from the condition. Additionally, the sleep disorder progressively worsens with age and weight gain, but there is a solution.

Dentists play an important role in recognizing people at risk and treating sleep disorders. They have pioneered the use of oral appliance therapy for the treatment of sleep apnea and sleep related breathing disorders. The traditional treatment method is the use of a CPAP, which is a machine with a mask, worn during sleeping, that provides a constant stream of air that keeps your breathing passages open by blowing air into a mask that covers the nose and mouth.
An oral appliance, however, is a device worn in the mouth only during sleeping, re-positioning the tongue and lower jaw forward to maintain an open airway, without sleeping with a mask and tubes connected to you like with the CPAP. Dentists trained in dental sleep medicine know how to select, fabricate, fit and adjust these devices, which look like a mouth guard or retainer, to help patients breathe freely during sleep. With an oral appliance, dentists can minimize or eliminate the symptoms of sleep apnea in mild to moderate cases.
If you or your partner suffers from any of the many risk factors relating to sleep apnea, make an appointment for a free consultation with your dentist to discuss your options.
About Spodak Dental Group:
Since 1976, the Spodak Dental Group has evolved to become South Florida's premier, comprehensive dental facility, and comprises a world-class association of dental professionals poised to provide full-service dental care second-to-none in both scope and skill. The Spodak Dental Group team includes General and Restorative Dentists, Endodontists, Periodontists, Prosthodontists, Board Certified Oral and Maxillofacial Surgeons, Master Ceramic Artists and Anesthesiologists, as well as one of the nation's only in-office labs.
Spodak Dental Group is located at 3911 W. Atlantic Ave. in Delray Beach, Fla. Please visit https://www.spodakdental.com/ or call (561) 498-0050 for more information or to make an appointment.
News Source: Spodak Dental Group