HOUMA, La., Oct. 5, 2023 (SEND2PRESS NEWSWIRE) — FMTC Safety, a leading provider of comprehensive safety training solutions, is pleased to announce its acquisition of M&A Safety Services, a respected safety training company with two training locations in Louisiana: Lafayette and Houma. The acquisition enhances FMTC's course capability in the Offshore, Wind, Maritime, and Industry sectors and solidifies its position as the largest player in the USA safety training market.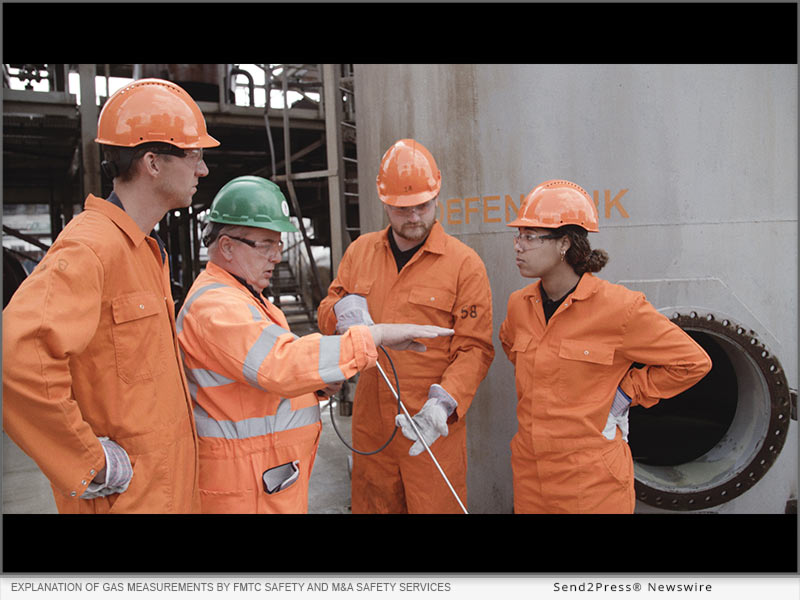 Photo Caption: Explanation of gas measurements by FMTC Safety and M&A Safety Services.
Management
Bryan Aucoin of M&A will serve as the CEO of the USA Operations for FMTC Safety. M&A's Travis Martin will act as the COO and Don Romero as the CCO. Bryan Aucoin, CEO M&A Safety Services: "By becoming part of the FMTC family, we now have an opportunity to compete on a global scale, and our team will be an important part of the future growth initiatives for the USA Operations." Kaylab Verdin, FMTC's current center manager will lead the integration of both companies in the USA.
Team
Employees from both organizations will be retained, ensuring a smooth integration and preserving the exceptional service levels that clients have come to expect. "We are excited to join forces with FMTC and combine our expertise to deliver the best safety training services in the industry," said Bryan Aucoin, CEO of M&A Safety Services. "Our shared vision and commitment to excellence will ensure a seamless transition and continued success," added Kaylab Verdin, Center Manager of FMTC Houma. In order to leverage the strength of both brands, both FMTC Safety and M&A Safety Services brand names will be utilized in the market.
Continuous expansion
FMTC Safety is actively exploring opportunities to open additional training centers across the United States. This expansion may be realized through partnerships with esteemed institutions such as colleges, universities, and other educational entities, further strengthening the company's commitment to providing accessible and comprehensive safety training across the country. Additionally, FMTC Safety will be introducing new training programs, particularly in the renewables sector, such as Global Wind Organization (GWO) courses, and will start offering courses for the maritime industry (STCW) shortly.
About FMTC Safety:
FMTC Safety was founded in 2014 and has a market leading position throughout Europe. They have played an important role in the global market since expanding its operations in recent years into France, Belgium and Saudi Arabia. With the acquisition of M&A, FMTC will now operate 13 training centers/offices as well as a strong digital platform that includes advanced learning solutions for its clients. FMTC operates locations in the Netherlands, France, Belgium, Saudi Arabia, and USA.
FMTC's unique selling point is its client-based approach. The client always decides when they want to train and where the training will take place. In January, Benelux investor Smile Invest acquired a majority stake in FMTC.
About M&A Safety Services:
M&A Safety Services was founded in 2016 by Bryan Aucoin, Travis Martin, and Don Romero and has established itself as a leader for safety and survival training in the Gulf Coast region. M&A is currently headquartered in New Iberia, LA and has full-service training centers located in Youngsville and Gray, Louisiana. M&A is committed to lead the training industry and believes that absolute customer service is essential to our success, and we recognize that our customers are in complete control. Our role is to provide quality training and excellent customer service at a value that maximizes their safety investment.
For more information, please visit: https://fmtcsafety.com/us/training-location-fmtc-houma/
News Source: FMTC Safety