CHERRY HILL, N.J., Sept. 21, 2023 (SEND2PRESS NEWSWIRE) — Since February of 2022, Foodiehall has operated exclusively as a pickup and delivery-only E-restaurant, serving cuisine from several different concepts out of its expansive space at 1931 Olney Avenue in Cherry Hill, New Jersey. Now, South Jersey's preeminent food hall has added an indoor dining room, while also bringing a new concept to life from a very notable chef.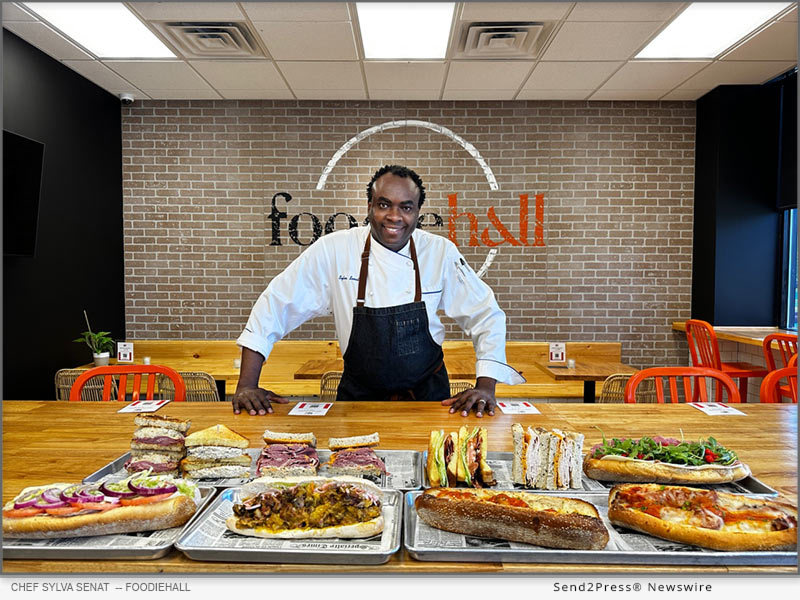 Photo Caption: Chef Sylva Senat at Foodiehall.
Sylva Senat, a James Beard Foundation nominated chef who appeared on Season 14 of Top Chef, took over as Culinary Director of Foodiehall at the beginning of the year, bringing with him 25+ years of experience in the culinary world. Now, Senat has launched a new concept named S5 — featuring soups, salads and sandwiches — to Foodiehall, effective immediately. This is Foodiehall's 10th concept, with the others including Geno's Steaks, Canting Wok and Noodle Bar, Simply Fowl, DaNick's Craft Burgers, Criss Crust, Dando Tacos, Mac N Toastie, Fornire Italian Kitchen, and Junior's Doughnuts.
With the new concept comes Foodiehall's first ever dining area, changing the narrative that the brand operates as a pickup and delivery-only business. The new dining room features 20 seats, and guests can order from any of the 10 concepts and dine in-house.
"We are so excited to now be an actual destination for our guests to come and sit and enjoy a delicious meal," noted owner Dan Goldberg. "Operating as an E-restaurant brought with it some challenges, but we had a great first year-and-a-half in business, and our customers started to utilize the seats as soon as they were put in place. We're also very excited to have Chef Senat's new concept up and running. He's an extremely talented chef, and we're very lucky to have him and his cuisine here."
While the new concept features a large number of salads, soups, and sides, it's primarily a sandwich-focused brand. The menu includes a Chicken Parmesan Hoagie; a B.L.T.; Roasted Turkey Special; Reuben; Meatball Parmesan Hoagie; Italian Hoagie; Tindle Plant-Based Chicken Parm Hoagie; and a Tuna Sandwich. Senat is using ½ pound of meat on all of his deli sandwiches, and is using Orwasher's Bakery, a New York-based bakery, for rye bread.
In addition to the current menu, Senat will be adding a sandwich to the menu that connects his Haitian Creole lineage. The sandwich will feature braised oxtail, Haitian epis, and "pikliz" (pickle cabbage slaw) on an Atlantic City roll from Formica Bakery.
"In my kitchen, I welcome anyone and everyone who wants to learn. I love seeing people who want to be part of this industry, and I go into teacher mode," said Senat. "I always want to give back and be a role model to whomever I can. I hope to be able to do that with this new brand and a sandwich that gets back to my roots. Almost every person who comes into my kitchen has not only never tried Haitian food, but almost certainly has not cooked the cuisine before, so this is an opportunity for me to use my knowledge to help others."
Foodiehall opened during the final days of February of 2022 with six pickup and delivery-only restaurant concepts operating daily. Since then, the company has added several more, including Geno's Steaks' first and only South Jersey location.
Learn more at https://www.s5sandwiches.com/.
RELATED LINKS:
Learn more about Foodiehall at: https://www.foodiehall.com/
News Source: Foodiehall