LANCASTER, Va., Feb. 9, 2023 (SEND2PRESS NEWSWIRE) — Might America's first president have quenched his thirst at the Lancaster Tavern and Inn, which was built circa 1790 in the Virginia town where George Washington's mother, Mary Ball Washington, resided? While we will probably never know for sure, he did visit the area five times during his presidency. Since the Tavern was the only public house at the time, it's quite likely Mr. Washington bellied up to the bar and dined here. Regardless, this tavern and inn is only slightly younger than America itself, and has borne witness to much history. And now, it can be yours as it hits the market via online auction, with bids closing the morning of February 22, 2023, says the auction firm, Tranzon Fox.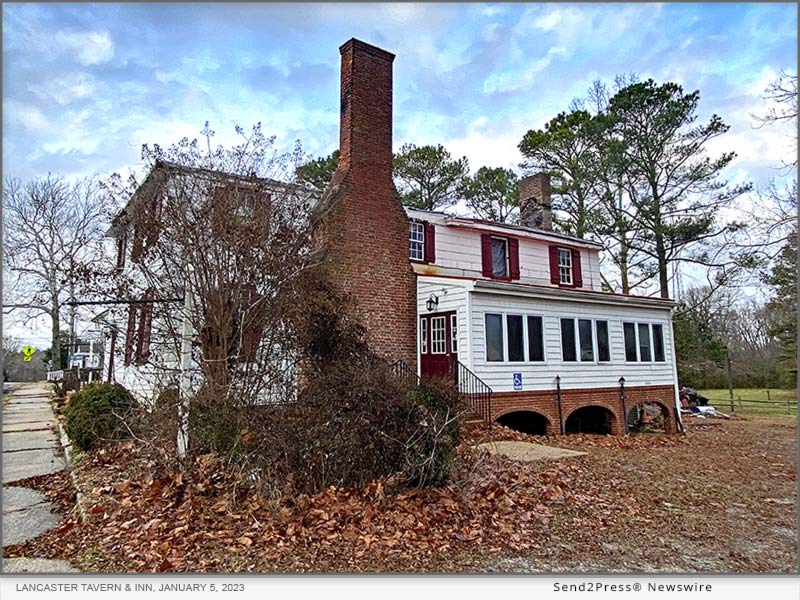 Photo caption: Lancaster Tavern & Inn, in Lancaster, VA, as photographed January 5, 2023.
Tragically, the Tavern was heavily damaged by fire in April 2020 and the innkeepers did not carry fire insurance. Two circa 1832 antique cottages – a couple of doors down from the Tavern and also in need of full renovation – are also up for auction. The cottages are colloquially referred to as the Yellow House and Purple House.
"Given the Lancaster Tavern's historical interest and its location across the road from the Lancaster Virginia Historical Society and Mary Ball Museum and Library, this is a singular opportunity to bring customers and overnight guests back to Lancaster," says broker/auctioneer Linda Terry. "A quality chef could be attracted to take up residence for a revival of the inn and tavern, with supplemental income flowing from its use as an event venue with a cozy cigar lounge and wine bar cellar. Additionally, tiny homes could be added to the grounds of the cottages to accommodate more guests and tourists, and the yellow house would make a great bakery/coffee shop! I invite interested parties to attend the open house Saturday, February 18, 2 p.m. to 3:30 p.m."
To see photos of when the Lancaster Tavern was a thriving restaurant and B&B, visit the following link: https://tinyurl.com/Lancaster-Tavern-on-the-Web
For more information about the auction and to attend the preview, visit Tranzon's auction listing: https://www.tranzon.com/fx4713
About Tranzon:
In 2000, a group of real estate auctioneers banded together to create Tranzon, LLC, a nationwide network that revolutionized the way real estate professionals bring buyers and sellers together. Today, the Tranzon team features some of the most experienced real estate, marketing, and auction professionals in the business. Using Tranzon's Market-Making System (TM), a proven methodology for the accelerated sale of property, the company has conducted tens of thousands of successful commercial and residential auctions for clients including financial institutions, trusts, guardians, estates, and private individuals. All Tranzon companies are independently owned and operated. Tranzon Fox, VAAF 423.
MULTIMEDIA:
Photo link for media: https://www.Send2Press.com/300dpi/23-0209-s2p-ltaverninn-300dpi.jpg
Photo caption: Lancaster Tavern & Inn, in Lancaster, VA, as photographed January 5, 2023.
News Source: Tranzon Fox