MINNEAPOLIS, Minn., July 11, 2023 (SEND2PRESS NEWSWIRE) — It's a trending topic among research institutions – to improve alignment between tech and startup gap fund accelerator programs (GAP) and development/advancement offices. Why? Because more and more alumni and friends of research institutions are looking to channel funds into innovation funds and support programs, like proof-of-concept programs, startup accelerators and university venture funds. So to meet that end, innovosource is hosting a virtual conference, "Innovation and Venture Philanthropy for Research Institutions" on August 23. This unique opportunity invites key parties from each group to participate.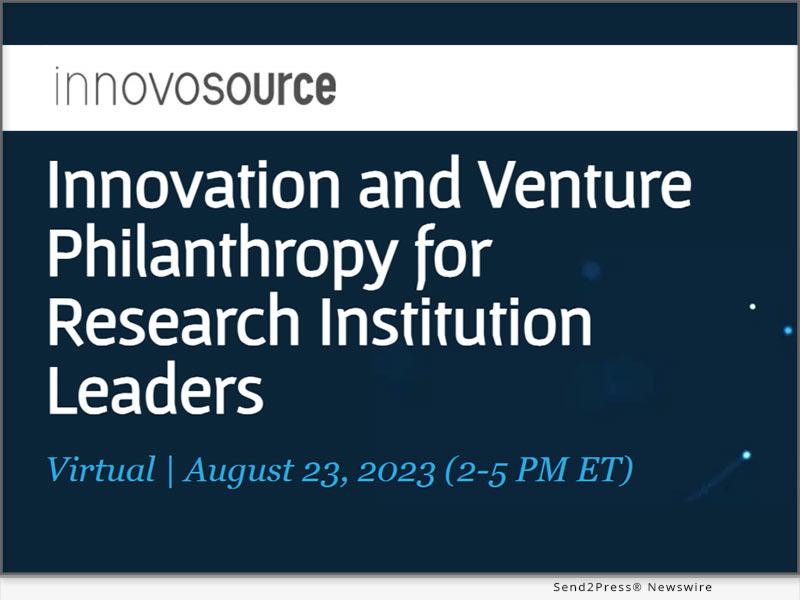 Image Caption: Virtual Event, "Innovation and Venture Philanthropy for Research Institutions."
The event is designed to help the groups work together to inspire innovation and philanthropy throughout their research institutions and in their communities. It's also a good opportunity for relevant industry experts, donors and supporters who are interested in being at the forefront of innovation and technology advancement.
Collaboration is key. From technology commercialization professionals and GAP funding accelerator leaders to foundation/development/advancement offices, it's essential that these groups do not silo themselves. Innovation and philanthropic success lays in partnership.
The event will offer a diverse range of content including thought-provoking panels and case studies; experts from Duke University, Innovate Calgary, Tulane University, and University of Notre Dame will share fundraising success stories and strategies.
"The primary goal of this virtual conference is to help participating campuses move the needle through successful tactics and examples, and to help them to leave common misconceptions behind – ones that may be holding back the opportunity/potential of philanthropy as support for innovation and commercialization priorities," Jacob Johnson, founder, innovosource, says. "We want them to come away with not just ideas, but actual ways to implement powerful and effective donor-supported innovation programming strategies of their own."
So, don't miss out on this exceptional gathering that bridges the gap between technology commercialization and philanthropic endeavors.
For more information, visit: https://www.innovosource.com/innovation-venture-philanthropy-event/
About innovosource:
Over the past 17 years, innovosource ( https://www.innovosource.com/ ) has worked with and supported hundreds of gap funding programs around the world. By partnering with research institutions and affiliates, innovosource informs, connects, and advocates for technology and startup gap funding and accelerator support programs.
###
MEDIA ONLY CONTACT:
(not for print or online)
Jacob Johnson
of innovosource
connect@innovosource.com
News Source: innovosource