SAN FRANCISCO, Calif., June 28, 2023 (SEND2PRESS NEWSWIRE) — iTop today announced the release of the newest version of its lightweight freeware iTop Easy Desktop, a powerful tool to auto-organize and customize Windows desktops. The latest version brings a brand new experience by adding trendy wallpaper stocks and an optimized ChatAI search tool. Besides, the enhanced box display features and sorting rules help users to get the desktop aesthetically organized and personalized.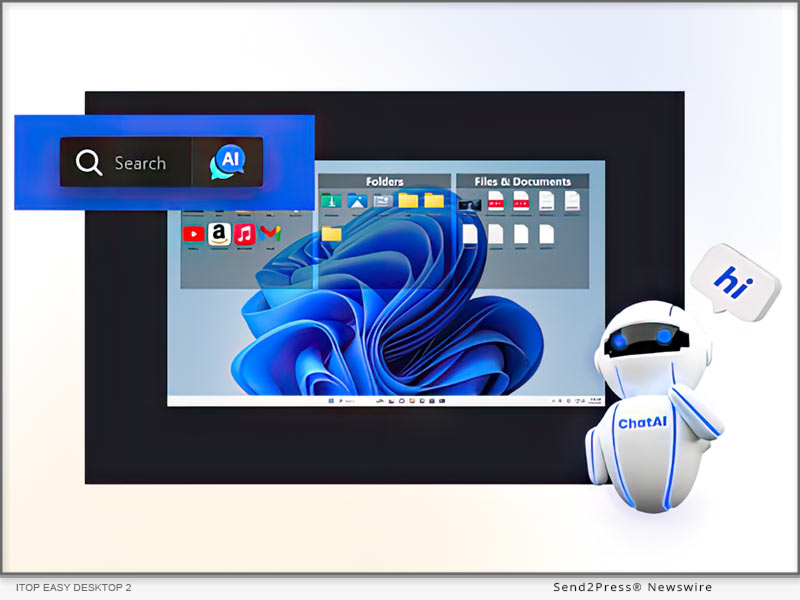 Image Caption: iTop Easy Desktop 2.
A Full-featured yet Lightweight Desktop Assistant 
iTop Easy Desktop enables clutter-free desktops by helping users create and group icons, folders, and all files into personalized boxes. With the powerful built-in automation tools, all files can be automatically organized and sorted by file type, name, time, and usage frequency. Apart from optimized desktop visibility, users can create and lock the boxes to protect their privacy. To assist more, iTop Easy Desktop applied the open-source "ChatGPT " API in its previous version to help users get answers and search results faster from within the tool.
With this release, users will see great improvements in the user interface, box rules, search and ChatAI experiences. It is faster and easier to locate files or folders supported by iTop Easy Desktop's unique Quick Search algorithm. For example, users can apply "smart search" to show most opened items or get recent searches quickly on priority. The box appearance such as color, shape and transparency can be customized pretty easily in the user interface.
NEW FEATURES ADDED IN ITOP EASY DESKTOP
Wallpaper stock is a brand new part added to the new version. The library contains live and static wallpapers for you to select any one that best suits the mood. Users can add video wallpapers and apply them whenever they want to add more inspiration to their daily workflow.
The brand new user interface of iTop Easy Desktop makes each function tab much easier to navigate. Users can dive in to customize shortcuts, box rules and turn features on and off in an ever more straightforward manner.
"With iTop Easy Desktop, every Windows users can get a brand new desktop display and access their files very quickly on a more organized desktop," said Leo, product manager of iTop Easy Desktop. "The new wallpaper section and optimized ChatAI feature makes the application more applicable for users. Now the desktop can be organized with personal styles and work as an informational assistant whenever needed."
iTop Easy Desktop is fully compatible with Windows 11, 10, and older versions. And It's available for free download at its official website: https://www.itopvpn.com/itop-easy-desktop
About iTop:
iTop is one of the fastest-rising stars in the software development industry, creating intuitive, stable, and smart software. It has developed popular tools like iTop VPN, iTop Screen Recorder, iTop Data Recovery, and iTop PDF to improve efficiency, maximize time and make users' digital lives much easier and more enjoyable. Since 2016 iTop has been creating tools and software that run on both desktop PCs and mobile devices. iTop products are used and trusted by more than 20 million users now.
Learn more: https://www.itopvpn.com/
MEDIA CONTACT:
Hayley Tsang
iTop | PR Manager
media@itopvpn.com
News Source: iTop