DALLAS, Texas, April 24, 2019 (SEND2PRESS NEWSWIRE) — Klemchuk LLP, a leading litigation, intellectual property (IP), and business law firm, announces that the Klemchuk LLP 15th Annual Ethics CLE will be held on Friday, May 3, 2019, in Dallas, Texas.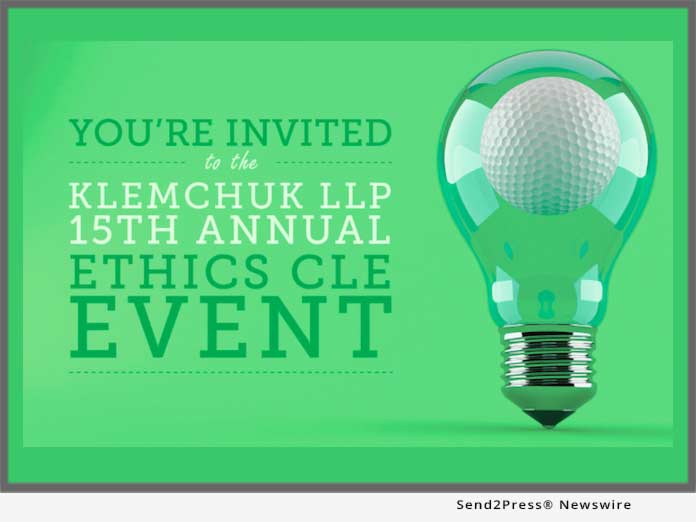 This year's event is being held at Topgolf, and offers attendees 90-minutes of Ethics CLE credit. In addition to hearing these insightful speakers and earning CLE credit, attendees will enjoy food and beverage during the event, and golf afterwards.
Bill Cornelius, attorney at Wilson, Robertson & Cornelius, P.C. and a mediator in Tyler, Texas, will speak on the "Ethics Rules and Collegiality in the Legal Profession," which explores the balancing of the ethical guidelines regarding zealous representation with a lawyer's ethical duty to the tribunal and obligations to the profession, including opposing counsel and parties.
Mark Divine of Unbeatable Mind, and Darin Klemchuk, managing partner of Klemchuk LLP, will speak about "Making Ethical Decisions in Tough Situations: Views from a Retired Navy SEAL Commander."
Please view the Klemchuk LLP Ethics CLE news page for all the details: https://www.klemchuk.com/news/klemchuk-llp-ethics-cle.
About Klemchuk LLP:
Klemchuk LLP is a litigation, intellectual property, transactional, and international business law firm dedicated to protecting innovation. The firm provides tailored legal solutions to industries including software, technology, retail, real estate, consumer goods, ecommerce, telecommunications, restaurant, energy, media, and professional services. The firm focuses on serving mid-market companies seeking long-term, value-added relationships with a law firm. Learn more about experiencing law practiced differently and our local counsel practice.
The firm publishes Intellectual Property Trends (latest developments in IP law), Conversations with Innovators (interviews with thought leaders), Leaders in Law (insights from law leaders), Culture Counts (thoughts on law firm culture and business), and Legal Insights (in-depth analysis of IP, litigation, transactional, and international law).
Learn more at: https://www.klemchuk.com/.
News Source: Klemchuk LLP