Klemchuk LLP Newsroom - Profile and News Archive
Klemchuk LLP is a litigation, intellectual property, transactional, and international business law firm dedicated to protecting innovation. The firm provides tailored legal solutions to industries including software, technology, retail, real estate, consumer goods, ecommerce, telecommunications, restaurant, energy, media, and professional services.
The firm focuses on serving mid-market companies seeking long-term, value-added relationships with a law firm. Learn more about experiencing law practiced differently and our local counsel practice.
The firm publishes Intellectual Property Trends (latest developments in IP law), Conversations with Innovators (interviews with thought leaders), Leaders in Law (insights from law leaders), Culture Counts (thoughts on law firm culture and business), and Legal Insights (in-depth analysis of IP, litigation, transactional, and international law).
8150 N Central Expressway 10th Floor Dallas, Texas 75206 -- P: 214.367.6000 | F: 214.367.6001 | info@klemchuk.com
Engage with Klemchuk LLP
Learn more online at: https://www.klemchuk.com/
Follow: Twitter | Facebook | Instagram | LinkedIn
Press Releases from Klemchuk LLP :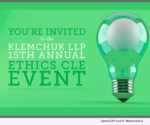 DALLAS, Texas, April 24, 2019 (SEND2PRESS NEWSWIRE) — Klemchuk LLP, a leading litigation, intellectual property (IP), and business law firm, announces that the Klemchuk LLP 15th Annual Ethics CLE will be held on Friday, May 3, 2019, in Dallas, Texas.