MARIETTA, Ga., March 27, 2018 (SEND2PRESS NEWSWIRE) — The Foundation for Ensuring Access and Equity announced today that one of its College Planning Cohort students, Damian Lee, who attends Lake City High School in Lake City, South Carolina, has received news that he has been selected as a Northeastern University Torch Scholar. The Torch Scholarship covers tuition, room, board, books, and fees to Northeastern University, valued at $260,000 over 4 years.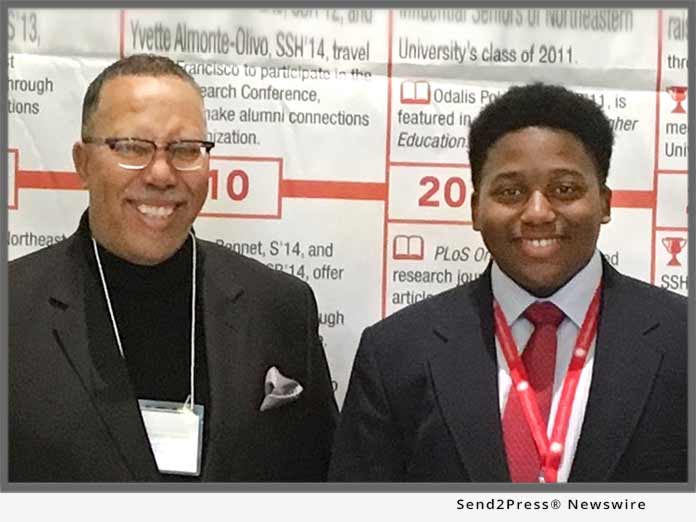 Lee, a participant in the Florence County School District 3 College Planning Cohort Program was nominated by the Foundation for Ensuring Access and Equity CEO/Founder, Mychal Wynn. Mr. Wynn and his wife, Nina, developed their College Planning Cohort Program in 2014 through a partnership between the foundation and their church, Turner Chapel AME Church, where they also serve as the Education Ministry Leaders.
The Florence County School District 3 College Planning Cohort Program, under the supervision of Ms. Yvonne Scott, Director of College, Career & Student Outreach Services, is now in its fourth year. The program has assisted over 200 students, of which the majority are first generation students, in developing comprehensive college-bound plans to expand college access and successfully navigate college admissions, scholarships, and financial aid. The program has produced 2 Gates Millennium Scholars, a QuestBridge Finalist, and a UMBC Meyerhoff Scholar. Lee, a first generation college student, grew up in a single-parent household of nine siblings after his father's tragic murder when he was two years old.
Wynn notes, "Damian has overcome tremendous obstacles, and has maximized all available opportunities to demonstrate leadership, serve his school and community, and take college classes through the dual enrollment program. Damian's life story, grit, and personal resilience made it easy for me to write the nomination for the $25,000 Sallie Mae Bridging the Dream Scholarship (which Lee has already received) and for the Northeastern Torch Scholars Program."
Lee, who was an Executive Officer in the ROTC, President of the Tri-M Music Honor Society, President of the Lake City High School Ensemble, President of the Lake City High School Gospel Choir, Vice-President of the Student Government Association, and Vice-President of the National Honor Society, was selected as one of 50 students, from over 500 nominees, to be invited to the Northeastern University Torch Scholars Interview Weekend. Mr. and Mrs. Wynn prepared Lee for the interview and reassured him to be himself. Lee, who will be entering college to major in political science, with aspirations of attending law school, has also been offered admission to a number of colleges and universities, including Bates College and George Washington University. However, Lee is on his way to Boston!
Lee notes, "This is an amazing opportunity. Ever since Mr. Wynn nominated me I have been praying that I would be selected. The opportunity to attend college and not have any student loan debt, at such a prestigious University as Northeastern is more than I ever could have imagined. I cannot say enough about Mr. and Mrs. Wynn. I do not know how I could have gotten through this process without Mrs. Wynn, who has guided me step-by-step. We have had phone calls or exchanged text messages almost every day throughout my senior year of high school. She is always there to offer words of encouragement. I am so glad that they are working with our school district. Ms. Scott, the Director of College, Career, and Student Outreach Services, and my guidance counselor, Ms. Singletary, as well as the entire Lake City community have done so much to help me that I can never repay their kindness, encouragement, support, and prayers. This is amazing. If this is a dream, I hope that I never wake up!"
In recognition of his leadership and service to his community, Damian was presented with a Key to the City by Lake City, South Carolina by Mayor, Lovith Anderson. He now can add the honor of 'Torch Scholar,' to his impressive list of accomplishments.
Nearly 200 students in grades 9 – 12 are currently participating in the foundation's College Planning Cohort Program, operating in North Carolina, South Carolina, Georgia, and Texas. Mr. Wynn notes, "We are so proud of our 2017 cohort students, many of whom will be the first in their family to attend college. They have worked hard researching colleges, applying for scholarships, and writing essays. They are deserving of the many college and scholarship opportunities they are receiving. For many of our students, their parents have attended every meeting and worked side-by-side to open up these opportunities for their family." The foundation will be offering College Planning Boot Camps this summer for rising 9th graders and for rising high school seniors.
Foundation for Ensuring Access & Equity websites: http://www.accessandequity.org/ and http://collegeplanningcohort.com/
# # #
*PHOTO for Media: Send2Press.com/300dpi/18-0327s2p-wynn-and-lee-300dpi.jpg
*Photo Caption: Mr. Mychal Wynn with his nominee, Damian Lee.
MEDIA CONTACTS:
Mychal Wynn or Nina Wynn
Foundation for Ensuring Access & Equity
P.O. Box 70457 | Marietta, GA 30007
Ph: (678) 395-5825
E-mail: info@accessandequity.org
info@collegeplanningcohorts.com
News Source: Foundation for Ensuring Access and Equity