KELSO, Calif., March 29, 2019 (SEND2PRESS NEWSWIRE) — Mojave National Preserve is presenting "Earth Through Time: Providence Mountains and the Mojave National Preserve," a solo, mixed media exhibition of paintings, etchings and installation art at the Desert Light Gallery, Kelso Visitors Center, by nationally celebrated National Park Service Artist in Residence, Britney Penouilh.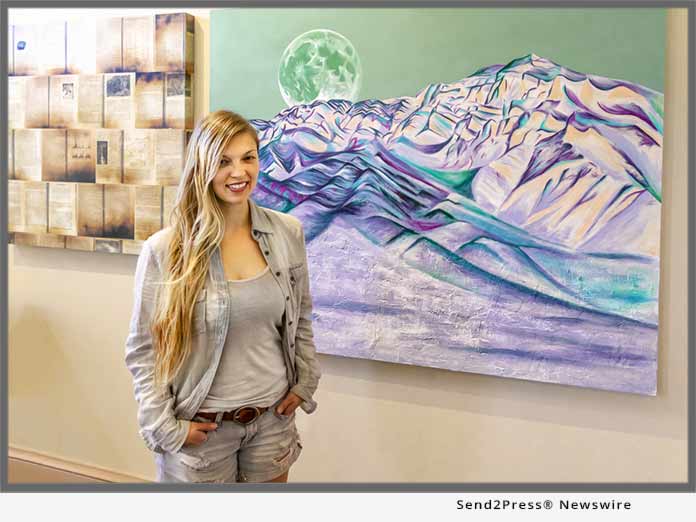 The Visitors Center is at 90942 Kelso Cima Rd, Kelso, CA 92309 and open to the public from 10 a.m. to 5 p.m. Thursday-Monday, March 29 – June 30, 2019.
Penouilh's work is a captivating series of visual monologues embracing the dynamism of a changing landscape as viewed through "geologic time." Based in Los Angeles, a trained geologist, an accomplished artist and a Magna Cum Laude graduate of New Orleans University, Britney's exhibit references 650 million years of transmutation in the Mojave's Providence Mountains. Her paintings feature environmental tropes that associate land changes with surface techniques that are additive and reductive.
"Her creative process is engaging and mimics the earth processes of deposition and erosion," notes Bob Killen, Mojave National Preserve Artist Foundation President. "As you traverse the gallery, each piece provides a compelling visual narrative that illustrates the history of the land and man's early and current intersection with Mojave geology."
Britney Penouilh invested a year exploring the back country of the Mojave National Preserves' Providence Mountains. "I developed the exhibit through exploration," she explains, "research with park service staff, and while hiking with my camera during golden hour, I journaled each day and concepts evolved into sketches. Over the term of my residency, I worked on translating how the Eastern California Shear Zone shaped the Mojave, and the Mojave shaped man (and woman)."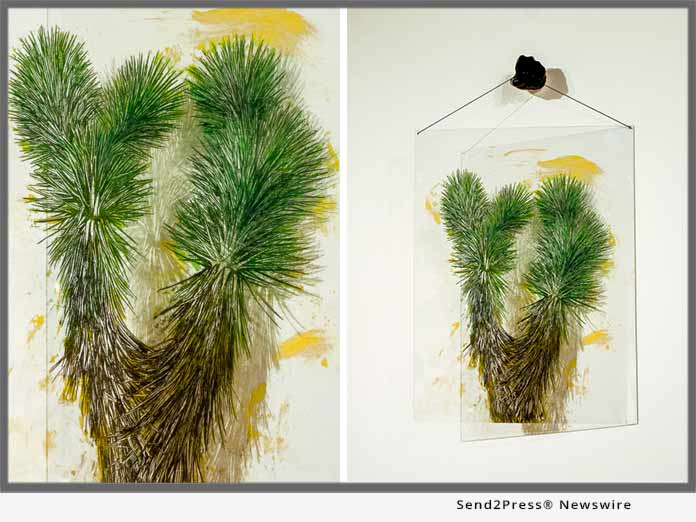 The diversity of the exhibit artwork exceeds the term, "Mixed Media." For example, the process of her paintings include selected pages from Michel Digonnet's book "Hiking the Mojave Desert" — she oiled, burned and collaged the pages on to wooden panels — paint and plaster are layered, applied and removed mimicking erosion of the land. Areas of her exhibit that would be appreciated only as complimentary texture are something more— it is the thing itself. Other visual monologues include strips of fabric that hang from wall-mounted hands and the ceiling, gracefully casting shadows as it draws from a space of sinister stalagmites and stalactites within the Mitchell Caverns.
Britney also created plaster hands, which gesture uplift of the land, while grated sheet metal in a hidden wall mount bisects impressionistic mountains, indicative of the intrusive bodies of hot granitic magma that once formed ore deposits of iron, gold, silver, and lead. It is these ore deposits that are responsible for producing the most profitable mines in Eastern California. Other sculptural works include a wall installation of naturally occurring minerals cast in polymer gypsum and a set of hands holding silicone cast bird feathers in a piece that signifies the Mojave people as a people of Dreams.

"Mixed Media is a challenging art discipline," says Gabe Thorburn, who Directs the Artists in Residence Selection program. "Britney's art achieves a cohesive resonance between each piece to create a whole experience," he says. "Visitors to the Desert Light Gallery and the Mojave will find themselves deeply engaged in this show because Britney's introspection and talented hands have created a deep appreciation for the Earth Through Time for all of us."
Event information: https://www.mojaveair.org/artist-in-residence/the-desert-light-gallery/
Learn more about the Mojave National Preserve Artist Foundation at: https://www.mojaveair.org/
Follow on Facebook at: https://www.facebook.com/mnpartistsfnd/
*PHOTO Links for Media:
[1] Send2Press.com/300dpi/19-0329s2p-Britney-Penouilh-300dpi.jpg
Caption: Britney Penouilh, Artist in Residence, "Earth Through Time" mixed-media exhibit opens on March 29, 2019.

[2] Send2Press.com/300dpi/19-0329s2p-Mojave-People-300dpi.jpg
[3] Send2Press.com/300dpi/19-0329s2p-mojave-Joshua-Tree-300dpi.jpg

News Source: Mojave National Preserve Artist Foundation