NEW YORK, N.Y., March 23, 2018 (SEND2PRESS NEWSWIRE) — LanDan Consulting and the Oberon Theatre Ensemble (Brad Fryman, Artistic Director) announce Oberon's Final Four Ticket Blitz for "HALCYON DAYS" by Steven Dietz directed by Academy Award Winner Alexander Dinelaris (Birdman, Red Dog Howls) as Oberon celebrates its 20th Season.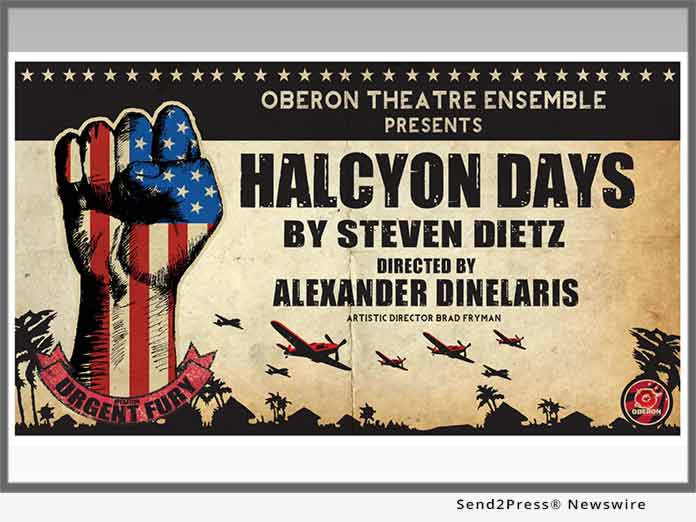 "Sometimes when an Oscar winner comes back to his roots to make independent theatre, a little magic can happen. In this case it does and this compelling, prescient piece is why we continue to make theatre. It shines a light on how the political spin of today has been going on for a long, long time," said Brad Fryman, Artistic Director, Oberon Theatre Ensemble.
For these Final Four performances tickets are only $25 with special code OTEADVOCATES (reg. $37.50).
"HALCYON DAYS" final performances play at the Jeffrey and Paula Gural Theatre at the A.R.T./New York Theatres (502 West 53rd Street) and must close March 25, 2018.
Performances remaining are Friday, March 23 at 7:30 p.m., Saturday, March 24 at 2 p.m., Saturday, March 24 at 7:30 p.m. and Sunday, March 25 at 2 p.m.
Tickets are available now at: http://www.oberontheatre.org/.
"HALCYON DAYS" is a shrewd satire exploring what it took to get America behind the 1983 invasion of the western hemisphere's smallest country, Grenada. This eye-opening exploration of the D.C. "spin machine" is a brutally witty and thought provoking behind the scenes look at America's first public relations war.
The cast of "HALCYON DAYS" includes Rand Guerrero (Betrayal), Ralph Guzzo (The Count of Monte Cristo), William Laney (The Drawer Boy), Chris McFarland (Birdman), Hannah Jane McMurray (Dirty Dancing National Tour), Sarah O'Sullivan ("Banshee"), Tom Paolino (Everyone's Carol), and Gameela Wright ("She's Gotta Have It").
"HALCYON DAYS" features scenic design by Rebecca Lord-Surratt (Drawer Boy), costume design by Amy Sutton (All the Kids Are Doing It), lighting design by Greg MacPherson (Killer Joe), sound design by Nick Moore (The Drawer Boy), and projection design by Nathan W. Scheuer (A Chorus Line). Jenna R. Lazar serves as Production Stage Manager.
About LanDan Consulting:
LanDan Consulting focuses on energizing and guiding clients to create an environment where every person can be the best version of themselves to maximize career and personal potential.
OBERON ON SOCIAL MEDIA:
Twitter: @OberonTheatre https://twitter.com/OberonTheatre
Facebook: https://www.facebook.com/OberonTheatre.
News Source: LanDan Consulting