NEW YORK, N.Y., Nov. 9, 2023 (SEND2PRESS NEWSWIRE) — In a world of ever-evolving tech, EaseText is changing the speech synthesis game. EaseText Text to Speech Converter, crafted by a team of skilled engineers, makes text talk with a lifelike voice. The software offers a real voice to break barriers between text and speech. Whether you're a content creator, a teacher, or just someone who wants great-sounding speech, EaseText Text to Speech Converter must be your essential tool.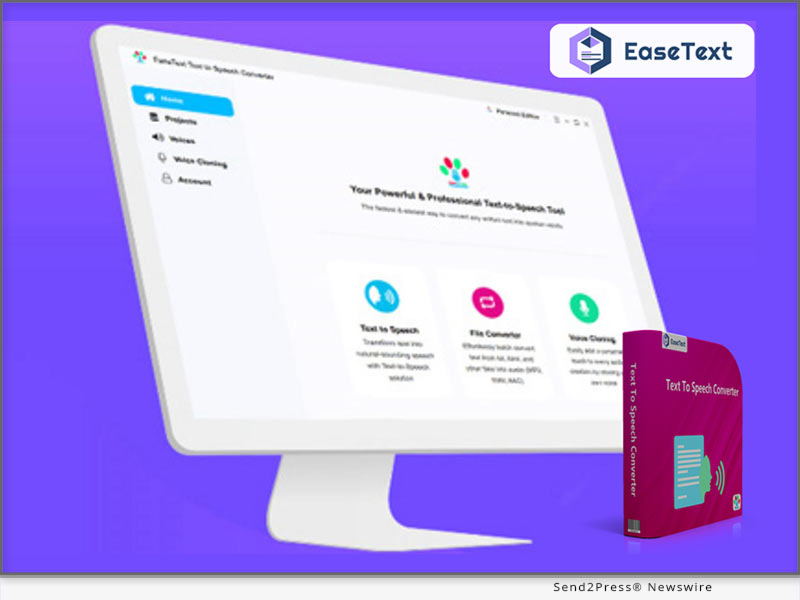 Image Caption: EaseText Text to Speech Converter software.
Endless Possibilities
EaseText opens doors to tons of text-to-speech powers that were once out of reach. What sets EaseText Text to Speech Converter apart is that it's excellent and affordable. It's a smart tool that makes natural sounds accessible to everyone.
A Personal Touch
EaseText Text to Speech Converter brings personalization to the forefront. With Voice Cloning, it's not just tech; it's a way to add a human touch to digital stuff. Think about having your content read by a voice that's all yours or a company having its own unique sound.
Key Features:
1 Offline Functionality
Work seamlessly without an internet connection, ensuring uninterrupted access to lifelike speech synthesis anywhere, anytime.
2 Voice Variety
Choose from a vast library of over 1300 voices, including the ability to clone and use your own voice, allowing for truly personalized audio creations.
3 Language Support
Support for 30 languages, including English, Spanish, Dutch, Italian, Chinese, Russian, Portuguese, German, and more.
4 File Format Compatibility
Effortlessly convert text from various file formats, such as TXT, Word and Excel into high-quality audio.
5 Bulk Conversion
Easily convert text in bulk from multiple files, streamlining your workflow for increased productivity.
6 Real-Time Processing
Experience real-time text-to-speech synthesis, with speedy conversions that take just minutes to transform input text into audio.
7 Voice Cloning
Utilize advanced AI-powered voice cloning to replicate and use your own voice, adding a personal touch to every audio creation.
8 Privacy Assurance
Rest easy knowing your data remains secure as the software operates entirely offline, eliminating concerns about data privacy and security.
9 Affordable Pricing
In a world where fancy tech can cost a fortune, EaseText Text to Speech Converter stands out with its Affordable Pricing. It means that the software is now in everyone's reach, from startups to schools, and folks like you.
10 User-Friendly Interface
Enjoy the user-friendly and intuitive interface. Easy for users of all levels to create professional-grade audio content. Tutorial: https://www.easetext.com/tutorial/how-to-use-offline-text-to-speech-software-on-pc.html
CEO Vincent's Vision:
Vincent, the boss at EaseText, saying, "We're just getting started. We see EaseText Text to Speech Converter becoming a must-have tool across industries, changing how we interact with tech and each other."
Price and Availability:
For personal 1 computer usage, it is available at $3.95 /month. You also can buy the Family edition that $5.95 /month for 3 computers.
Learn More: https://www.easetext.comeasetext.com/purchase-tts-converter.html
https://www.easetext.com/text-to-speech-converter.html
About EaseText:
EaseText Software is a leading software development company providing digital data management software solutions. Founded in 2012, EaseText has been an award-winning developer, especially in the image, audio, video, PDF and text converting field.
More information: https://www.easetext.com/text-to-speech-converter.html
Facebook: https://www.facebook.com/easetext
X(Twitter): https://twitter.com/ease_text
YouTube: https://www.youtube.com/@easetext
News Source: EaseText Software