ACE Adventure Resort Newsroom - Profile and News Archive
WELCOME TO ACE ADVENTURE RESORT: Remember the magic of summer vacation? Running barefoot through sprinklers and chasing fireflies. Back then, every day was a new adventure and details didn't matter. THAT was freedom. Now is the time to reclaim that freedom; to share it with your family and friends at ACE Adventure Resort!Whitewater Rafting. A waterpark… on a lake. Dining, cabin rentals and more. It's all here!
Engage with ACE Adventure Resort
Learn more online at: https://aceraft.com/
Follow: Twitter | Facebook | Instagram
Press Releases from ACE Adventure Resort :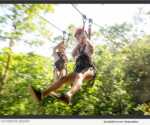 OAK HILL, W.Va., May 15, 2020 (SEND2PRESS NEWSWIRE) — New River Gorge, whitewater rafting outfitters are excited to begin their 2020 season following guidelines set in place by West Virginia Governor Jim Justice to modify operational procedures in order to provide COVID-19 safety precautions for outfitter guests and staff. ACE Adventure Resort in Oak Hill, West Virginia is excited to get back out on the river.