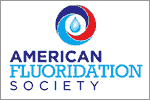 American Fluoridation Society Newsroom - Profile and News Archive
The American Fluoridation Society was founded in 2014 by a group of concerned professionals anxious to see all residents of the United States served by community water systems enjoy the benefits of community water fluoridation (CWF). Equally important to this Society is to prevent rollback attempts by opponents of CWF, as well as to initiate CWF where it has not been previously available.
We provide scientifically-based information and education about water fluoridation to: fluoridation decision-makers; health authorities and boards; professional organizations; the media; politicians; and, the general public.
We contribute to the body of scientific knowledge on water fluoridation and dental public health.
Engage with American Fluoridation Society
Learn more online at: https://americanfluoridationsociety.org/
Follow: 𝕏 (Twitter) | Facebook
Press Releases from American Fluoridation Society :