Appvance Inc Newsroom - Profile and News Archive
Appvance is the inventor of AI-driven autonomous testing, which is revolutionizing the $120B software QA industry. The company's premier product is Appvance IQ(tm), the world's first AI-driven, unified test automation system for web and mobile applications.
AIQ empowers enterprises to improve the quality, performance and security of their most critical applications, while transforming the efficiency and output of their testing teams and lowering QA costs.
Appvance is headquartered in Santa Clara, California, with additional offices in Rochester, NY, Costa Rica and India. Investors in the company include Javelin Ventures, Staenberg Ventures, Social Internet Fund, FundersClub, Three Bridges Ventures and HB Asset Management.
Engage with Appvance Inc
Learn more online at: https://appvance.com/
Press Releases from Appvance Inc :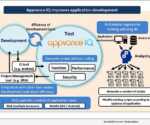 SANTA CLARA, Calif., Sept. 30, 2020 (SEND2PRESS NEWSWIRE) — Appvance Inc. (Santa Clara, Calif.) and Hitachi Solutions Co., Ltd. (Tokyo) announced today that the companies have begun joint sales of "Appvance IQ" (AIQ), which is a platform for improving efficiency of web and mobile application testing by utilizing AI technology for autonomous test generation, from September 15, 2020.