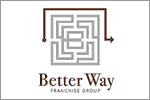 Better Way Franchise Group Newsroom - Profile and News Archive
Better Way Franchise Group has been growing brands for years. Our team of professionals will help you grow your brand and footprint rapidly and in a sustainable manner.
Better Way Franchise Group helps franchisors grow faster, smarter, and better than they ever thought was possible. Our proven track record of decreasing costs while increasing revenue, puts franchisors on track for double and even triple digit year over year growth.
We cover everything from development consulting to full scale development outsourcing. We can even fill holes in your development team during transitions. Our unique and proven process works quickly and you don't pay anything unless you see results.
Contact:
Call or Text:
801.831.8521
208.705.8272
Ogden, UT
info@betterwayfranchise.com
Engage with Better Way Franchise Group
Learn more online at: https://www.betterwayfranchise.com/
Follow:
Press Releases from Better Way Franchise Group :