OGDEN, Utah, April 13, 2018 (SEND2PRESS NEWSWIRE) — The Patch Boys® are excited to announce the expansion of their brand into the state of Utah, partnering with Better Way Franchise Group of Ogden, Utah. The New York based company has entered into an exclusive agreement for Better Way Franchise Group to sale franchise licenses in six Utah locations. This expansion would bring the exciting brand of The Patch Boys even further west and build upon their existing franchise network of 52 franchises across the country.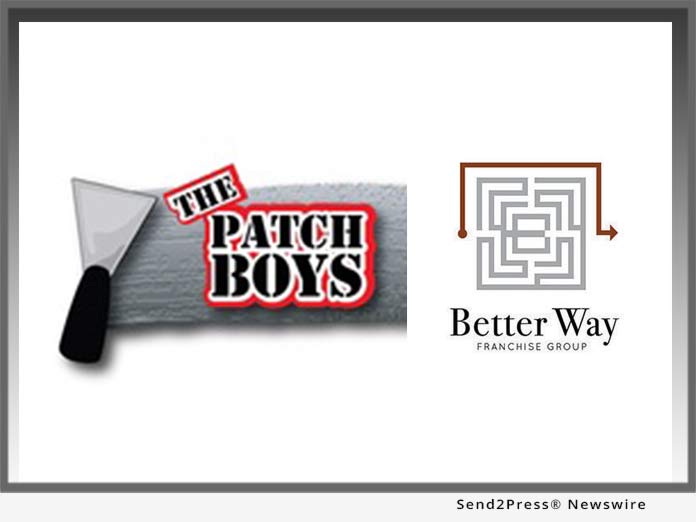 "Patch Boys is the only franchise concept that does what we do," says Leo Goldberger, CEO and founder of The Patch Boys. "When I met Ryan and the Better Way Franchise Group team I knew that they did franchising differently. They were the right choice to drive this expansion into the Utah area."
The Patch Boys is a full service drywall and plaster repair company, specializing in drywall holes, ceiling and plaster repair, and even new installation of drywall. Each Patch Boys franchise location is locally owned and operated. Accidents happen and drywall is often on the other end of those accidents. Many home repairs also require the removal of drywall and plaster to fix.
Often the plumbers or electricians doing these repairs don't have the time to fix these holes and damages. That is were The Patch Boys come in. Of new franchise locations, 83 percent have work the very first day they are open, and 100 percent by the third day. A low level of initial investment means quick return on investment for franchisees.
"We offer a unique and needed service to any area that we are in," Goldberger says. "When you join Patch Boys you are instantly needed in your area by roofers, plumbers, and electricians. You receive our corporate training. We come to you and do real world jobs and estimates. This how our franchisees have business from the very first day."
Better Way Franchise Group is located out of Ogden, Utah. With over a decade worth of franchising experience, across various brands, they are in prime position to handle the sale of each of The Patch Boys expansions in the Utah market.
"We couldn't be more excited to offer this amazing brand in the state of Utah," says Ryan Combe, Managing Partner at Better Way Franchise Group. "The Patch Boys concept is a turn-key business opportunity that will change your life and financial future. Utah is the perfect area for this concept."
Together, The Patch Boys and Better Way Franchise Group will change the way drywall and plaster repair is done in Utah.
"It's not often that you see a business opportunity that for under $50,000 and less than one months time you can be in business," Combe says.
Better Way Franchise Group is available for inquiries from individuals interested in the learning more about The Patch Boys franchise concept. They can be reached at 801-831-8521 or info@betterwayfranchise.com.
About The Patch Boys and Better Way Franchise Group:
The Patch Boys® have been serving homeowners for over a decade. Each Patch Boys location is locally owned and operated and committed to serving its customers with our unique and award-winning repair and patching process.
Better Way Franchise Group has been growing brands for years. Our team of professionals will help you grow your brand and footprint rapidly and in a sustainable manner. For more information, visit: https://www.betterwayfranchise.com/
Media Contact:
Ryan Combe
Better Way Franchise Group
ryan@betterwayfranchise.com
801-831-8521
News Source: Better Way Franchise Group