Beyond Baroque Literary Arts Center Newsroom - Profile and News Archive
Beyond Baroque Foundation (Beyond Baroque Literary Arts Center) is one of the United States' leading independent Literary | Arts Centers and public spaces dedicated to expanding the public's knowledge of poetry, literature and art through cultural events and community interaction. The Foundation is a 501(c)(3) charity.
Founded in 1968, Beyond Baroque is based out of the original City Hall building in Venice, California. The Center offers a diverse variety of literary and arts programming including readings, workshops, new music and education. The building also houses a bookstore with the largest collection of new poetry books and CDs for sale and an archive that houses over 40,000 books, including small press and limited-edition publications, chronicling the history of poetry movements in Los Angeles and beyond.
Through the years, Beyond Baroque has played muse to the Venice Beats, the burgeoning Punk movement and visiting scholars. Many of the city's leading literary talents, including Dennis Cooper, Wanda Coleman, Tom Waits, Exene Cervenkova and Amy Gerstler, are alumni of the Wednesday night poetry workshop. Many of the worlds most well known independent artists, including Patti Smith, Michael McClure, Dana Gioia, and Viggo Mortensen have performed on its stage.
Beyond Baroque, 681 N. Venice Blvd., Venice, CA 90291
Engage with Beyond Baroque Literary Arts Center
Learn more online at: http://beyondbaroque.org/
Press Releases from Beyond Baroque Literary Arts Center :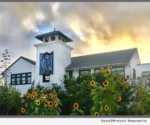 VENICE, Calif., Oct. 4, 2018 (SEND2PRESS NEWSWIRE) — A historic lineup of L.A.'s leading artists, performers, poets and authors will salute Beyond Baroque Literary Arts Center ('Beyond Baroque'), the city's legendary literary center, at its 50th anniversary "Bohemian Bacchanal" on Saturday, November 10. The gala event, located in the Venice Arts Plaza, features a dinner and will be highlighted by presentations honoring actor/poet Viggo Mortensen, a long-time supporter.
VENICE, Calif., Dec. 13, 2016 (SEND2PRESS NEWSWIRE) — Beyond Baroque, one of the nation's leading independent Literary Arts Centers, is planning a year-long celebration of its 50th anniversary in 2018. Guided by the nonprofit's Executive Director, Richard Modiano, and council of prominent artist-curators, a program of activities commencing January 1, 2018, will take place at Beyond Baroque's Venice location and in venues throughout Los Angeles.