BOGE America Inc. Newsroom - Profile and News Archive
BOGE America is the United States of America's Daughter Company of BOGE International GmbH based in Bielefeld, Germany. BOGE manufactures a comprehensive range of oil lubricated and oil free screw and piston compressors used by all sectors of industry to supply compressed air for a wide range of manufacturing processes.
The company also supplies a complimentary range of filters, dryers and condensate management equipment. The product is sold and serviced through a dedicated network of over 50 distributors in North and South America.
BOGE America, Inc., 3414 Florence Circle, Suite 100, Powder Springs, GA 30127.
Engage with BOGE America Inc.
Learn more online at: https://us.boge.com/en-us
Follow: Twitter | Facebook | LinkedIn | YouTube
Press Releases from BOGE America Inc. :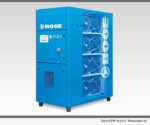 POWDER SPRINGS, Ga., Sept. 18, 2018 (SEND2PRESS NEWSWIRE) — In recent months, there have been numerous instances in the news about food borne illnesses that have reaffirmed the ongoing need for quality oil free compressors in kitchens and food preparation areas, says BOGE America, Inc.