Broadway Barter Newsroom - Profile and News Archive
Formed in 1996, Broadway Barter has developed a successful formula of filling unsold theater seats for increased revenue to the producers and at the same time generating media exposure. A theater seat has no value once a show's over. 80-90% of an average show is sold. Broadway Barter turns that remaining 10-20% of unused seats into valuable advertising exposure.
Broadway Barter's program is based on combining a Trade/Cash blend that delivers your target audience. Its unique and creative formula has made it one of the most competitive media sources in the market today.
Engage with Broadway Barter
Learn more online at: https://broadwaybarter.com/
Follow: | Facebook | Instagram
Press Releases from Broadway Barter :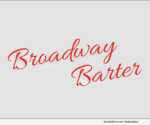 BOCA RATON, Fla., April 27, 2021 (SEND2PRESS NEWSWIRE) — Broadway is back in 2021! Broadway Barter, celebrating 25 years of trading media for producer empty seats, announced that it is giving its support to Broadway by offering all theaters the opportunity to prepare, if not already done, with the state-of-the-art air filtration upgrade using Ultra Violet protection.