California Association of Food Banks Newsroom - Profile and News Archive
The California Association of Food Banks (CAFB) partners with 41 food banks and over 6,000 local agencies. Our mission is to end hunger in California, and our vision is a well-nourished and hunger-free California, where all people have enough food to lead a healthy life.
CAFB is a membership organization with a shared mission to build a well-nourished California and a firm commitment to providing cutting-edge leadership in the anti-hunger community.
Our major programs include Farm to Family, which works with growers and packers to provide fresh produce to food banks; statewide programs for food stamp outreach and enrollment; robust state and federal advocacy efforts; produce education; and member services that offer assistance with special projects as well as technical support.
CAFB is governed by a Board of Directors elected from among its membership. Our Board Members come from food banks throughout the state, representing the broad diversity of our membership.
CAFB began in 1995 with a single staff member devoted to anti-hunger advocacy. (Learn more about our history) CAFB has since grown into a sophisticated organization with over 20 full-time employees.
Engage with California Association of Food Banks
Learn more online at: http://www.cafoodbanks.org/
Follow: Twitter | Facebook | LinkedIn
Press Releases from California Association of Food Banks :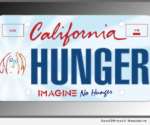 SACRAMENTO, Calif., Jan. 25, 2018 (SEND2PRESS NEWSWIRE) — The California DMV (Department of Motor Vehicles) has commenced the pre-sale to put the iconic self-portrait image of John Lennon on California license plates which will help fund the state's food banks. The special license plate features the famous John Lennon self-portrait image and the slogan, "IMAGINE no hunger." Proceeds from sales will be administered by the California Department of Social Services (CDSS) and distributed to the California Association of Food Banks (CAFB) to be utilized throughout the state of California for food bank programs.