Carbon Asset Network Newsroom - Profile and News Archive
Carbon Asset Network (CAN) is looking for landowners to become CAN Land Stewards. CAN receives funding for Soil Health Projects from the nonprofit, Synergy for Ecological Solutions. In turn, CAN provides funding to you, the Land Stewards, for Soil Health improvement on your land. If the soil becomes healthier, more carbon is locked in the soil. And that's Nature's way to clean our air.
Engage with Carbon Asset Network
Learn more online at: http://CarbonAssetNetwork.com/
Follow: Twitter
Press Releases from Carbon Asset Network :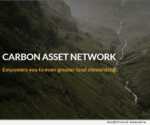 CHEYENNE, Wyo., Nov. 23, 2021 (SEND2PRESS NEWSWIRE) — Two innovative Cheyenne-based companies, the agricultural Carbon Asset Network and blockchain consultancy group Ember Labs have joined forces to create the new pathway for carbon sequestration and improving air quality by using the power of blockchain. This new model is designed to be a private enterprise alternative to Cap and Trade methods, which have not proved successful since its inception in 2009.