Citrusw00d Productions Newsroom - Profile and News Archive
Citrusw00d Productions is in the business of production and distribution of multimedia content targeting specialized audiences, including collectors of chess art with historical significance.
Please note that the company name, Citrusw00d, is spelled with zeros ("0") in place of the letter "o."
Engage with Citrusw00d Productions
Learn more online at: https://citrusw00d.com/
Press Releases from Citrusw00d Productions :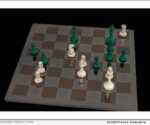 NEW YORK, N.Y., Nov. 5, 2021 (SEND2PRESS NEWSWIRE) — Art collectors and chess lovers will soon have a chance to own high-quality depictions of historically important chess battles in the form of non-fungible tokens (NFTs) issued through Citrusw00d Productions. Citrusw00d has minted an initial pair of multimedia chess films on the OpenSea NFT marketplace that will list for sale on Saturday, Nov. 6, 2021.