Foneazy Studio Newsroom - Profile and News Archive
Foneazy is focusing on the development of handy and effective tools to save your digital life and make using your phone as a doddle! With these tools, you can easily change the iOS GPS location, unlock the iPhone and solve so much more troubles when using your mobile device.
CONTACT: https://www.foneazy.com/contact-us/
Engage with Foneazy Studio
Learn more online at: https://www.foneazy.com/
Press Releases from Foneazy Studio :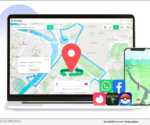 HONG KONG, China, July 7, 2021 (SEND2PRESS NEWSWIRE) — Do you want to access Geo-restricted apps and games without the location restriction? Or would you like to change the geographic location to fool your friends into thinking you are somewhere else? Well, try using MockGo from Foneazy Studio to transport your GPS location to anywhere in the world without having to jailbreak the device. It works with all location-based apps, such as Pokemon Go, Ingress, Life360, Fitness app, Facebook, etc.