GI-Films Newsroom - Profile and News Archive
The main objective of GI-FILMS (Georgian International Films) is for the company to produce audio-visual content like feature movies, TV-shows, commercials and music videos. GI-FILMS was originally founded in 2008, in Los Angeles, California, USA. Later it was established in Georgia in 2012.
Engage with GI-Films
Learn more online at: https://gi-films.com/
Follow: 𝕏 (Twitter) | Facebook
Press Releases from GI-Films :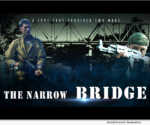 LOS ANGELES, Calif., Jan. 27, 2022 (SEND2PRESS NEWSWIRE) — GI-Films announces: What is really going on in Eastern Europe between Russia and Ukraine is the subject of a new movie "The Narrow Bridge" just released on Amazon Prime. Written and produced by Mirza Davitaia, and produced by GI-Films, "The Narrow Bridge" is about a young artist who must take up arms to defend Ukraine.