GridBright Inc. Newsroom - Profile and News Archive
GridBright Inc. specializes in secure grid integration. Its services and solutions span the full electric value chain, safely interconnecting renewable and distributed energy resources to the grid, implementing and integrating modern computer applications for grid operations and planning, and providing solutions for the secure exchange of grid data among grid value chain participants.
Engage with GridBright Inc.
Learn more online at: https://www.gridbright.com/
Press Releases from GridBright Inc. :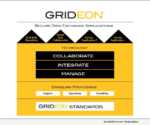 ALAMO, Calif., March 2, 2021 (SEND2PRESS NEWSWIRE) — Essential to managing today's and the future electric grid is data-its movement and security. GRIDEON developed by GridBright under an award from the US Department of Energy (DOE) Advanced Research Project Agency (ARPA-E) addresses this need.