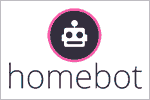 Homebot Newsroom - Profile and News Archive
Homebot helps homeowners build real estate wealth. Every month, the award winning company delivers millions of property digests to consumers on behalf of their loan officer or real estate agent. The addictive, personalized digests are chock full of data and information to give homeowners and investors multiple financial scenarios to advise on building wealth.
Loan officers and real estate agents leverage the Homebot experience to deliver high engagement campaigns that deliver an average 75% open rate to cement top of mind awareness and maintain the client relationship for life.
Media Contact:
Hannah Shain
720-988-6852
hannah@homebot.ai
Engage with Homebot
Learn more online at: https://homebot.ai/
Follow: Twitter | Facebook | Instagram | LinkedIn
Press Releases from Homebot :