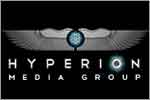 Hyperion Media Group Newsroom - Profile and News Archive
Hyperion Media is an independent multimedia company that finances, produces and develops film & television content for a global audience. We take pride in working with the best, the brightest and most creative people in the industry to produce both critically acclaimed and commercially successful films.
Actively providing financing in the entertainment industry since 2005, Hyperion was an early investor in Legendary ("300", "The Dark Knight", " The Hangover", "Jurassic World") as well as other high-flyers such as Bandito Brothers ("Act of Valor", "AOV 2", "Need For Speed") and tech companies like DAX Cloud. Hyperion combines this foresight of historically strategic film investments with high-level, discerning taste in material and consistent recognition at film festivals such as Sundance, Toronto and Cannes.
Focus & Capabilities
Our insight, expertise and network allow us to service projects with a wide range of budgets. We provide hands on support from the early development stages through to production and delivery. We are able to attract and attach high-level talent, secure presales, leverage tax credits, finance and promote projects at the major international film festivals and markets.
Our primary focus is on Film Finance, Production and Film & Television Development. Hyperion also has previously been involved in funding Distribution and P&A.
We provide a wide variety of film funding services; including equity, debt and mezzanine finance. Our versatile legal and business affairs team consists of top-notch firms that offer a broad spectrum of expertise.
GENERAL CONTACT:
assistant@hyperionmediagroup.com
Tel: 310.853.7950
HYPERION MEDIA GROUP
3249 S La Cienega Blvd.
Los Angeles, CA 90016
Engage with Hyperion Media Group
Learn more online at: http://hyperionmediagroup.com/
Follow: Twitter | Facebook | LinkedIn
Press Releases from Hyperion Media Group :