JADCOM Media LLC Newsroom - Profile and News Archive
Dementia Map is a joint effort between Lori La Bey of Alzheimer's Speaks, and Dave Wiederrich of Memory Cafe Directory. Dementia Map is wholly owned by JADCOM Media LLC, an online media publishing company based in Portland, Oregon.
MEDIA CONTACT:
David L. Wiederrich
CEO, JADCOM Media LLC
503.970.4426 (media only)
Dave@DementiaMap.com
Engage with JADCOM Media LLC
Learn more online at: https://www.dementiamap.com/
Follow: Twitter | Facebook | Instagram | LinkedIn
Press Releases from JADCOM Media LLC :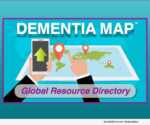 PORTLAND, Ore., Nov. 10, 2020 (SEND2PRESS NEWSWIRE) — JADCOM Media LLC announced today that Lori La Bey of Alzheimers Speaks and Dave Wiederrich of Memory Cafe Directory have created Dementia Map at DementiaMap.com – the first Global Resource Directory and event calendar for families and professionals.