JUBILATION Newsroom - Profile and News Archive
The group of people that make up the powerhouse choir, Jubilation, are a force in the industry. Established in 1998 through the New Jersey Performing Arts Center (NJPAC), the choir made its debut at the NJPAC's second-annual Martin Luther King, Jr. Celebration featuring the legendary gospel minister and singer, Shirley Caesar. That performance set the tone for what would become more than a decade of excellence and a dedication to praise and worship.
>[?Under the leadership and tutelage of Rev. Dr. Stefanie Minatee, Jubilation has released six albums, earned a Grammy award, and holds the distinction as the last choir to perform with music giant Ray Charles.
The group is just getting started. It's history, however, is one filled with a richness and diversity that can only be described as divine.
Engage with JUBILATION
Learn more online at: http://www.jubilationchoir.org
Press Releases from JUBILATION :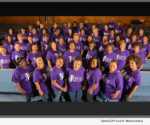 UNION, N.J., Feb. 5, 2019 (SEND2PRESS NEWSWIRE) — IN CONCERT: Friday, February 8 – 8 p.m. – UCPAC's Hamilton Stage in Rahway, N.J. The group of people (over 100+ voices) that make up the powerhouse choir, JUBILATION, are a force in the industry.