LifeSkills Foundation Newsroom - Profile and News Archive
LifeSkills Foundation is a 501(c)(3) nonprofit organization that provides mentoring to youth and aspiring youth entrepreneurs. The Foundation connects young leaders to experienced business and academic professionals via virtual and face-to-face platforms designed specifically to ensure delivery of guidance, training, and financial support.
The Foundation's mission is to help youth business leaders build viable ventures and use their business know-how, leadership skills, and self-confidence to invest in their communities, create jobs, and prepare for the future workforce. LifeSkills is a principal supporter of the i.Invest National Youth Business Competition.
Engage with LifeSkills Foundation
Learn more online at: https://www.i-investcompetition.com/lifeskills-foundation
Follow: | Facebook
Press Releases from LifeSkills Foundation :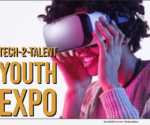 NEW ORLEANS, La., Feb. 19, 2020 (SEND2PRESS NEWSWIRE) — LifeSkills Foundation will host the first annual Tech-2-Talent Youth Expo on Saturday, March 14 from 1 – 5:30 p.m. at the Mel Ott Multi-Purpose Center located at 2301 Belle Chasse Highway in Gretna, La.