MansMark Records Newsroom - Profile and News Archive
MansMark Records is the home of the last official studio recordings of Babatunde Olatunji. Prince Ayo Manuel Ajisebutu, founder of MansMark Records, is committed to upholding Olatunji's legacy by associating his work with music and projects that promote love, peace, and elevation of humanity. Babatunde Olatunji is from Ajido Badagry Lagos State Nigeria. In 1992, he received a Grammy Award for his participation on Mickey Hart's Planet Drum Project.
Engage with MansMark Records
Learn more online at: http://www.mansmark.com/
Follow: Twitter | Facebook | Instagram | YouTube | SoundCloud
Press Releases from MansMark Records :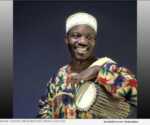 LOS ANGELES, Calif., Aug. 20, 2020 (SEND2PRESS NEWSWIRE) — Sikiru Adepoju, a two-time GRAMMY®-winning artist and celebrated Nigerian talking drum master, releases "Take Me Home, Country Roads," the second single from "ỌPẸ," the upcoming collaboration with the Riddim Doctors, on MansMark Records.