Pacific Engineering Inc Newsroom - Profile and News Archive
Pacific Engineering, Inc. (PEI), is high tech small business located in Lincoln, Nebraska. Since 1998, PEI has been a leading designer and manufacturer of advanced composite structures for the military and commercial markets.
Engage with Pacific Engineering Inc
Learn more online at: https://www.pacificengineeringinc.com/
Follow:
Press Releases from Pacific Engineering Inc :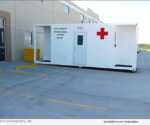 ROCA, Neb., May 21, 2020 (SEND2PRESS NEWSWIRE) — Pacific Engineering, Inc., winner of the U.S. Small Business Administration's 2014 Tibbetts Award for innovative technology, in response to the pandemic, has focused its resources on the development of a family of composite shelters that can be used as mobile test centers and patient treatment.