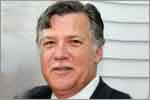 Patrick Carberry Newsroom - Profile and News Archive
Author Patrick Carberry has had many life experiences. Patrick is a U.S. Army veteran. He's also worked for Fortune 500 companies, and been an entrepreneur where he created and sold a software company.
Carberry entered the FBI in November 2002. He has been assigned to the Tampa Division's Field Intelligence Group for the past nine yrs and presently serves as a Supervisory over Intelligence Analysts who work on threats to the homeland.
Prior to joining the FBI, he had a successful career in a variety of Senior Executive and Program Management positions, with a variety of Fortune 500 companies including building his own high tech software company while serving the high tech sector in Computer Graphics and Document Management for over 25 years. Pat is also an author of technical book "CAD/CAM with Personal Computers." Publisher Tab Books/McGraw Hill.
Founder of Joshuacord.org (www.Joshuacord.org) a non-profit Christian organization that promotes and supports religious freedom for Christians under persecution in the Middle East and in Africa.
Pat received his B.A. Degree from California State University, Fullerton, CA, attended Masters Program at Liberty University and served in the US Army 82nd Airborne. Pat is married and has two adult children and a one grandchild.
Engage with Patrick Carberry
Follow: | LinkedIn
Press Releases from Patrick Carberry :