Pure MHC LLC Newsroom - Profile and News Archive
Pure MHC, LLC is a platform technology company funded and managed by Emergent Technologies, Inc. with expertise in disease-specific target identification and validation as well as immunotherapeutic drug development for cancer, infectious and autoimmune diseases and allergy. The Pure MHC target discovery technology was developed by Chief Scientist William Hildebrand, Ph.D., of the University of Oklahoma Health Sciences Center.
Engage with Pure MHC LLC
Learn more online at: https://puremhc.com/
Follow:
Press Releases from Pure MHC LLC :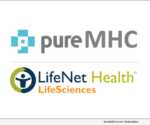 AUSTIN, Texas, March 16, 2021 (SEND2PRESS NEWSWIRE) — Pure MHC, LLC, a target discovery and development company, today announced the launch of its Peptide HLA Immunotherapy Data Resource ("PHIDR"), built through its collaboration with a trusted provider of transplant solutions and a leader in regenerative medicine, LifeNet Health.