Right Hand Technology Group Newsroom - Profile and News Archive
Right Hand Technology Group, Inc. was founded on a very simple idea - that your IT company should have your back. Our experts plan, monitor and manage our clients' technology and security to allow them to focus on their own business growth and organizational success.
Every eligible member of our technical team is security certified starting at the top with our CEO, being a CISSP (Certified Information Systems Security Professionals). IT management should focus on expediency but not at the expense of security. We help companies find and maintain the proper balance between the two while still helping them grow their bottom line.
Media Contact:
Josh Wilhelm
President
Right Hand Technology Group
844-254-7484
jwilhelm@rhtg.net
Engage with Right Hand Technology Group
Learn more online at: https://www.righthandtechnologygroup.com/
Follow: Twitter | Facebook | LinkedIn
Press Releases from Right Hand Technology Group :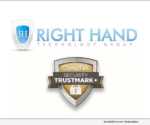 PITTSBURGH, Pa., March 25, 2020 (SEND2PRESS NEWSWIRE) — Right Hand Technology Group Inc, a Managed IT and Cyber Security Service Provider, announced today it has received the CompTIA Security Trustmark+(tm) from CompTIA, the non-profit association for the world's information technology (IT) industry.