RMN Music Newsroom - Profile and News Archive
London-based, RMN Music is an independent music company created to empower contemporary artists and audience through a series of strategic services and projects, connecting music and people crafting unique experiences, fueling ideas and imagination.
Its labels - RMN Records, RMN Classical - promote musical diversity through production, promotion and development of a variety of different projects including new album releases and events across a wide range of genres with no distinction of countries, age or background.
Engage with RMN Music
Learn more online at: https://rmnmusic.com/
Press Releases from RMN Music :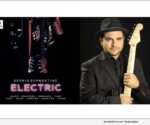 LONDON, U.K., Aug. 25, 2020 (SEND2PRESS NEWSWIRE) — "ELECTRIC" by Sergio Sorrentino, produced by Rick Romano and distributed by RMN Classical, will be published worldwide on August 28, 2020. The album includes performances of works by renowned composers of today's contemporary scene such as Steve Reich, John King, John Cage and Joji Yuasa.