RoboSolucio LLC Newsroom - Profile and News Archive
RoboSolucio LLC is a privately held limited liability corporation headquartered in Atlanta, GA. The company offers innovative artificial intelligence robot solutions including teacher's assistants, COVID-19 symptom detection (body temp, chronic cough, labored breathing), and health companions.
Robot capabilities include fall detection, call for help, remote control, autonomous navigation, video streaming, voice control & dialog, compliance, facial recognition, and capacitive touch response. Our teacher's assistant delivers mini lessons, monitors student comprehension, and verbally probes students for understanding.
Our front desk security and concierge services are ideal for companies and building managers to control access to the workplace safely and provide helpful concierge services. We also offer elder companions for aging in place, senior & assisted living homes, doctor offices, hospitals. As a Small Business, RoboSolucio is committed to excellence and creating innovative and flexible solutions for its clients.
Engage with RoboSolucio LLC
Learn more online at: https://www.robosolucio.com/
Follow: | Instagram | LinkedIn | YouTube
Press Releases from RoboSolucio LLC :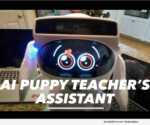 ATLANTA, Ga., Feb. 17, 2021 (SEND2PRESS NEWSWIRE) — RoboSolucio, an innovator in artificial intelligence (AI) solutions for mobile robot companions, announced today that it has an agreement with Rock Springs Elementary, an Atlanta-area school in the Gwinnett County School System.