Sidney Walton Newsroom - Profile and News Archive
The No Regrets Tour is offering every American an opportunity to meet one of the few remaining WWII veterans. Sidney Walton, who just turned 100 and is now one of America's oldest WWII vets, was born Feb 11, 1919 in NYC. He joined the Army in 1941, nine months before Pearl Harbor, to fight Hitler and rescue Europe. Little did he know in less than a year he'd be fighting to save the U.S. He served in the 34th infantry, 8th division, where he rose to the rank of corporal. He returned to New York City in 1946, after completing five years of service. He hopes that WWII, the most horrific war ever fought in the history of the planet, is the last world war.
Engage with Sidney Walton
Learn more online at: https://gosidneygo.com
Follow: Twitter | Facebook | YouTube
Press Releases from Sidney Walton :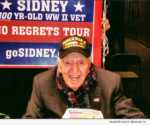 SACRAMENTO, Calif., July 26, 2019 (SEND2PRESS NEWSWIRE) — Sidney Walton, age 100, one of America's oldest WWII veterans and just back from on-stage in Normandy, has announced that he will be driving from San Diego to Sacramento to meet with Gov. Gavin Newsom July 30, 11:30 a.m. to 12 p.m. in the Governor's private conference room.