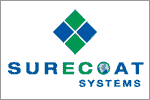 SureCoat Systems Newsroom - Profile and News Archive
SureCoat Systems was founded from a desire to offer sustainable products and permanent roof and wall solutions to meet the needs and demands of the building industry and property owners. SureCoat Systems' products are backed by more than 30 years of chemical designing, engineering and manufacturing of polymeric hybrid, specialty coatings for the marine and construction industry.
SureCoat Systems offers high quality, sustainable, environmentally advanced waterproofing and energy saving coating solutions to the professional building industry with product warranties that express our confidence of quality and superior performance.
Engage with SureCoat Systems
Learn more online at: https://surecoatsystems.com/
Follow: Twitter | Facebook | LinkedIn | YouTube
Press Releases from SureCoat Systems :