ANAHEIM, Calif., July 26, 2018 (SEND2PRESS NEWSWIRE) — SureCoat Systems today announced that the launch of their newest gallon and half-gallon SureCoat and SureSet Repair Kits are now available on Amazon. As a result, thousands of contractors and DIY-ers across the country will now have access to these repair kits.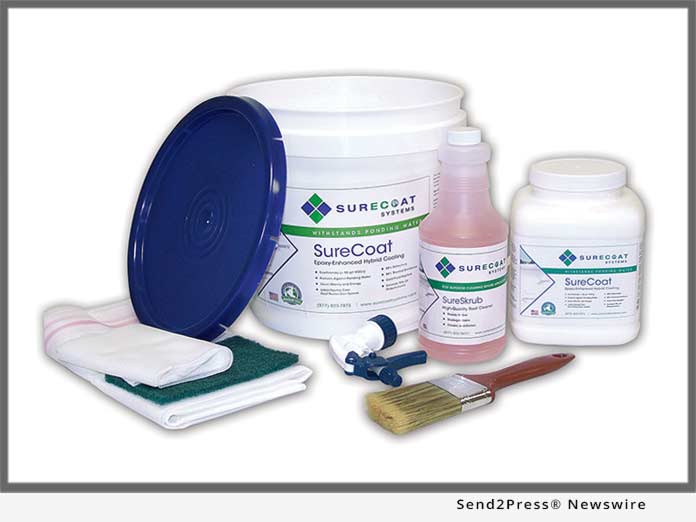 These easy-to-use repair kits have everything needed to complete a permanent roof repair over any existing roof system in a matter of minutes.
"Every property has a roof that needs attention and repairs, but not every property needs a new roof," says SureCoat Systems founder and formulator, Jesse Martinson. "I'm also a contractor and since we launched SureCoat Systems, I've always kept our roofing system supplies on my truck.
"This sparked the idea for repair kits in the first place – grab, install and go. And when we finally launched our online store, we realized our approved contractors were doing the same thing – keeping these kits on their trucks to complete customer repairs right on the spot."
He adds, "With the increased demand for our kits, we wanted to ensure that contractors and DIY customers everywhere have access to the ease and convenience of being able to fix small repairs without even thinking twice about it."
Designed as a permanent waterproofing repair solution, our user-friendly and easy-to-install liquid single ply kit offers users a cost-effective way to extend the life of their current roof system. Everything they will need comes in the kit and installation is as simple as brush or roll on and go.
The kits include:
A half-gallon of SureCoat or SureSet – covers 12 square feet (one ponding area or two to three penetrations).
One gallon SureCoat or SureSet – covers 25 square feet (large ponding area; drain area; and penetrations or seams).
The gallon or half-gallon kits also include:

One 24-ounce bottle of SureSkrub with a cap and spray nozzle
One 2-inch brush
One 10-foot roll of 6-inch poly-mesh and 6 feet of 42-inch poly-mesh
One scrub pad
Installation instruction flyer.
The instruction guide provides the user with exclusive access to SureCoat Systems' short installation videos that seamlessly demonstrate how to install the product in a matter of minutes.
The 1-gallon SureCoat and SureSet kits are available for $129, and the half-gallon SureCoat and SureSet kits are available for $99.
For more information, visit the product page on Amazon at: https://www.amazon.com/dp/B07CX61KMF/ (or search for "SureCoat Systems").
HOW-TO VIDEOS:
For more about the installation process of the SureCoat repair kit visit: https://youtu.be/LR313CcGTdQ
For more about the installation of the SureSet repair kit visit: https://youtu.be/_5L7-CFG-bg
About SureCoat Systems:
SureCoat Systems was founded from a desire to offer sustainable products and permanent roof and wall solutions to meet the needs and demands of the building industry and property owners. SureCoat Systems' products are backed by more than 30 years of chemical designing, engineering and manufacturing of polymeric hybrid, specialty coatings for the marine and construction industry.
SureCoat Systems offers high quality, sustainable, environmentally advanced waterproofing and energy saving coating solutions to the professional building industry with product warranties that express our confidence of quality and superior performance.
Learn more at: https://surecoatsystems.com/.
Follow on social media at:
Facebook: https://www.facebook.com/SureCoatSystems/
Twitter: https://twitter.com/SureCoatSystems
* Photo link for media: Send2Press.com/300dpi/18-0726s2p-surecoatkits-300dpi.jpg
* Photo Caption: SureCoat and SureSet Repair Kits now available on Amazon.
News Source: SureCoat Systems