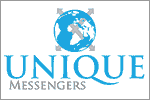 Unique Messengers Newsroom - Profile and News Archive
Unique Messengers is comprised of two men, Winfield Craig, and Albert Henry, who are passionate about their desire to inspire and motivate others through the messages in their music.
Craig is the founder of Unique Messengers, the writer of most of their spiritually-inspirational lyrics and he also performs with the group (lead and background vocals). He moved to the U.S. from Trinidad after having a powerful and inspiring dream about Jesus Christ's return.
Henry, also a native of Trinidad and Tobago, is the producer for Unique Messengers. He is a lead and background vocalist as well as a songwriter who helps with writing original music for the group.
Engage with Unique Messengers
Learn more online at: https://uniquemessengers.com/
Follow: Twitter | Facebook | Instagram | YouTube
Press Releases from Unique Messengers :
BROOKLYN, N.Y., Nov. 24, 2015 (SEND2PRESS NEWSWIRE) — Committed to spreading the word of God, Unique Messengers recently debuted their first album, 'Jesus is Coming,' and is gearing up for an international tour next spring. The thought provoking album, delivers a fusion of styles that includes rhythm and blues, reggae, Soca and rap.