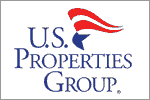 U.S. Properties Group Newsroom - Profile and News Archive
U.S. Properties Group owns approximately three million square feet. Redeveloping shopping centers in 11 states and managing over 350 tenant relationships, USPG covers the Midwest and Southeast United States, which includes Alabama, Georgia, Illinois, Michigan, North Carolina, Ohio, Pennsylvania, South Carolina, Tennessee, and Virginia.
Founded to create value and realize the "Upcycling" of shopping center assets, USPG acquires developments, renovates, and manages property to enhance values while restoring community marketplaces with best-of-class tenants and services.
Engage with U.S. Properties Group
Learn more online at: https://uspginc.com/
Follow: Twitter | Facebook | LinkedIn
Press Releases from U.S. Properties Group :