Warrington Shaw Newsroom - Profile and News Archive
Taipei, Taiwan-based investment house Warrington Shaw offers a "premium-class" investment management service constructed on methodical and intensely-focused investment strategies. All our offerings aim to offer high value to our clients by providing above-average returns and innovative portfolios centered on a holistic approach to meeting our clients' needs. Most of our clients are private investors but we extend our expertise to a fast-growing roster of institutional clients.
Engage with Warrington Shaw
Learn more online at: https://www.warringtonshaw.com/
Follow:
Press Releases from Warrington Shaw :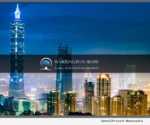 TAIPEI CITY, Taiwan, Feb. 27, 2019 (SEND2PRESS NEWSWIRE) — Taipei, Taiwan-based investment house, Warrington Shaw is planning to sponsor a local grassroots sports team. As part of an initiative to give back to the local community, Warrington Shaw plans to select a promising sports team from Taiwan each year and provide sponsorship to help pay for costs related to training, travel expenses, kit, facilities and equipment.