World Dance Group Newsroom - Profile and News Archive
The World Dance Group is dedicated to improving the world by sharing the beauty and passion of dance with artists and fans worldwide. By empowering a global and diverse community of dancers through latest technologies and celebrating the best talent by hosting professional dance competitions, this innovative company is democratizing dance, providing a global podium for elite dancers and raising the visibility of the positive benefits and value of dancing whether as a recreational activity or for professional competitions. By uniting the world in the celebration of multiples genres of dance, together we are changing the world one dance at a time.
Engage with World Dance Group
Learn more online at: https://worlddancegroup.com/
Follow: | Facebook | Instagram | LinkedIn | YouTube | Vimeo
Press Releases from World Dance Group :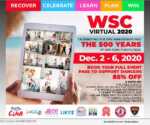 SAN JUAN, P.R., Nov. 18, 2020 (SEND2PRESS NEWSWIRE) — In early 2020 the World Dance Group was preparing a new chapter of the World Salsa Championship in San Juan, Puerto Rico; one of the world's special houses of salsa, and a historic city of humanity, rich in music and history. After celebrating previous editions in high-profile venues like Las Vegas, Disney, Miami and Atlanta, the company selected the new Distrito T-Mobile, a new entertainment complex soon to open in San Juan, as the venue for the 6th World Salsa Championships.