LOS ANGELES, Calif. and GAUTENG, South Africa, July 5, 2023 (SEND2PRESS NEWSWIRE) — VOICES FOR HUMANITY — the weekly series presenting heroic change-makers from a variety of faiths, cultures and nations, working to uplift their communities — announces a new episode featuring human rights activist Glory Matipile, premiering on July 5, 2023.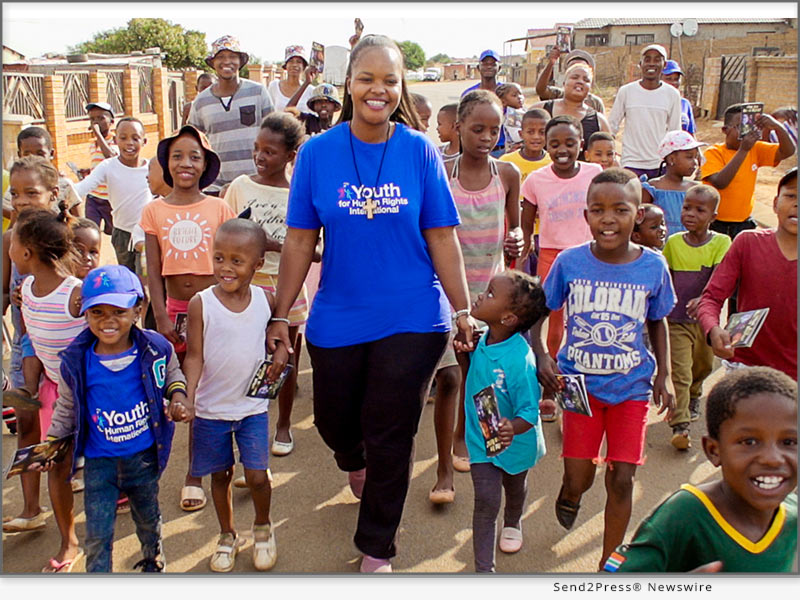 Image Caption: VOICES FOR HUMANITY announces a new episode featuring human rights activist Glory Matipile, premiering on July 5, 2023.
VOICES FOR HUMANITY airs Wednesdays at 8 p.m. ET/PT on Scientology Network.
With a depressed job market and high rate of unemployment, many South Africans are easily lured with potential jobs that turn out to be human trafficking traps. Of those ensnared, only one percent are ever rescued. Children and young South Africans are trafficked for sex slavery, drug trafficking and organ harvesting. Glory Matipile has made it her mission to rescue victims of human trafficking and to spread the knowledge of human rights. Her work in coordination with Youth for Human Rights focuses on educating the youth of South Africa about the tricks and tactics of traffickers, helping prevent them from ever becoming victims.
ABOUT GLORY MATIPILE
A native of South Africa, Glory Matipile's determination to become an activist in the battle against human trafficking was sparked by the disappearance of a girl she knew growing up. Setting out to find her friend, Glory uncovered the numerous scams and deceits traffickers employed and the dangers they posed to the country's youth. Glory decided to start the organization Baagi Ba South Africa (The Future of South Africa) to advocate for victims. With her team of activists, she exposed a trafficking ring, saving hundreds of potential victims from being consigned to slavery. Glory and her organization have a widespread presence in communities, in schools, and have brought the message of human rights to millions through South African media.
Glory Matipile is the founder and CEO of Baagi Ba South Africa.
ABOUT THE SCIENTOLOGY NETWORK
The Scientology Network debuted on March 12, 2018. Since launching, the Scientology Network has been viewed in over 240 countries and territories in 17 languages. Satisfying the curiosity of people about Scientology and Founder L. Ron Hubbard, the network takes viewers across six continents, spotlighting the everyday lives of Scientologists, showing the Church as a global organization, and presenting its social betterment programs that have touched the lives of millions worldwide. The network also showcases documentaries by independent filmmakers who represent a cross-section of cultures and faiths, but share a common purpose of uplifting communities.
Broadcast from Scientology Media Productions, the Church's global media center in Los Angeles, the Scientology Network is available on DIRECTV Channel 320, DIRECTV STREAM, AT&T U-verse and can be streamed at Scientology.tv, on mobile apps and via the Roku, Amazon Fire and Apple TV platforms.
LEARN MORE:
https://www.scientology.tv/series/voices-for-humanity/glory-matipile.html
MULTIMEDIA:
VIDEO:
https://www.scientology.tv/series/voices-for-humanity/glory-matipile.html
IMAGE link for media:
https://www.Send2Press.com/300dpi/23-0705-s2p-vfh-matipile-300dpi.jpg
Caption: VOICES FOR HUMANITY announces a new episode featuring human rights activist Glory Matipile, premiering on July 5, 2023
TAGS: #VoicesforHumanity #YouthforHumanRights #ScientologyNetwork #GloryMatipile #BaagiBaSouthAfrica
News Source: Church of Scientology International