FEDERAL WAY, Wash., July 15, 2019 (SEND2PRESS NEWSWIRE) — XG Communities LLC, a premier provider of wireless and engineering services for carriers and municipalities across the United States, announce their agreement to provide small cell program solutions for the City of Federal Way, Washington.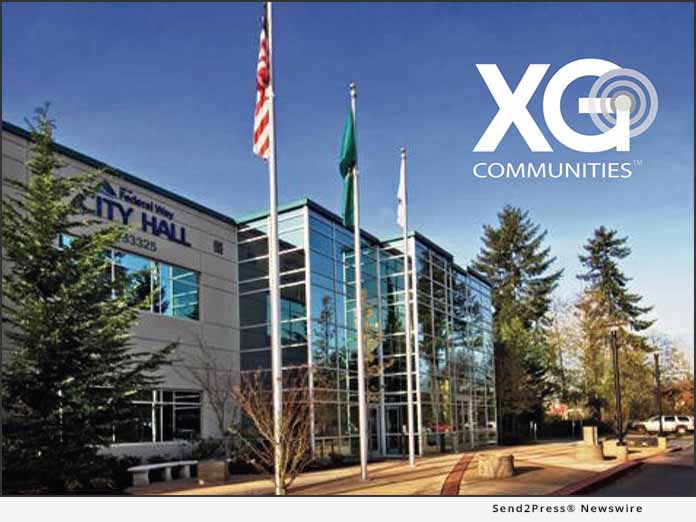 Under the multi-year agreement, XG Communities will begin managing the City's street light poles and other assets for small cell colocation using Site SeleX software platform. This effort will enhance the ability for Federal Way to deploy wireless connectivity throughout the City. As wireless carriers densify existing networks, it is estimated that the industry will deploy hundreds of thousands of small cells, making it increasingly difficult for cities to manage the application and deployment process. In collaboration with the carriers, XG Communities will streamline applications with a predictable process.
"I am excited that XG Communities was selected to be our technological partner, and I look forward to working with them to bring our community into the rapidly approaching internet-of-things economy," said Mayor Jim Ferrell, City of Federal Way.
The decision for the City of Federal Way to partner with XG Communities was based on the need to increase connectivity for businesses and residents. The solution will be the foundation to deploy infrastructure, enhance business investment, and improve public services.
"Our partnership with Cities, to address wireless deployments, has given us a unique perspective on how to support the carrier-city relationships," said Monnie McGaffigan, President of XG Communities.
About City of Federal Way:
Federal Way is a city in King County, Washington; within the Seattle-Tacoma metropolitan area, shadowed by the majestic Mount Rainier. The current population is 97,044. Federal Way is locally identified by its 1990s semi-urban development, characterized by landscaped, off-street, multi-structure apartment complexes and shopping centers. For more information, please visit https://www.cityoffederalway.com/.
About XG Communities:
XG Communities is headquartered in Irvine, California. A premier provider of small cell wireless engineering services and comprehensive wireless strategies for cities and municipalities. For more information, please visit http://xgcommunities.com/.
For media or other queries, contact:
XG Communities LLC
(949) 514-4617
info@xgcommunities.com
*IMAGE link for media: Send2Press.com/300dpi/19-0715s2p-xgcomm-wa-300dpi.jpg
News Source: XG Communities LLC